Beyonce May be Shooting a New Music Video at the Superdome, According to Fans on Twitter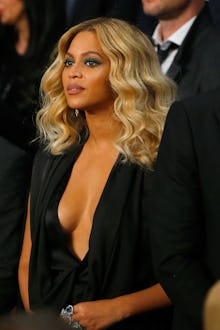 Beyonce may be filming a music video at the Superdome in New Orleans, according to photos and rumors circulating among her fans on Twitter.
"Beyonce is shooting a video in the dome!!!!!!! " one fan tweeted Tuesday, followed by a blurry distant picture of what may or may not be Queen Bey and a camera crew shooting on the field of the dome that looks like it was taken by a sneaky fan from the nosebleed section. Other fans joined the conversation with similar pictures and anticipatory tweets. 
It's unclear who took the pictures — and if Beyonce is filming a music video or if it's even her in the picture. She and Jay Z were spotted Monday in New Orleans, according to a fan's tweet that included a picture of the couple dining together.
One fan account tweeted a video of the scene.