'Everybody Wants Some': Trailer, Release Date and Cast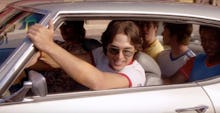 YouTube
Director Richard Linklater is handing out another dose of nostalgia with his new movie Everybody Wants Some, slated to hit U.S. theaters on April 15, according to IMDb. Linklater called the new flick the "spiritual sequel" to the 1993 hippie hit Dazed and Confused, Yahoo reported. The cast is different than the latter, starring Zoey Deutch, Blake Jenner, Glen Powell, Tyler Hoechlin and Ryan Guzman, according to IMDb. 
The plot is also different. Instead of a bunch of high schoolers in the '70s, Everybody Wants Some follows a group of college kids in the '80s. But like its predecessor, there will be alcohol, parties and hazing — for baseball, this time. Linklater based the baseball theme upon his own experience playing in college, Yahoo reported. 
"When you go to college, you drop away all the heaviness of your previous life," Linklater told Yahoo. "This is that first rush, that whiff you get of, 'Wow, I can stay out all night. I can drink a beer at 10 in the morning. I can eat whatever I want. I can have someone spend the night. I can sleep anywhere I want.'"
Linklater connected the new movie to his other acclaimed movie Boyhood, which took 12 years to film, according to the New York Times. 
The soundtrack to Everybody Wants Some will be as timely as the outfits and cassette tapes are, including Van Halen, the Cars and Donna Summer, according to Yahoo.
The cult classic Dazed and Confused starred Milla Jovovich, Matthew McConaughey and Jason London.
The trailer for Everybody Wants Some is below: