9 Reasons 2015 Was the Year of Musical Disappointment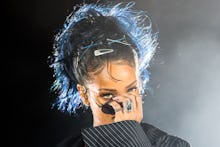 There was once a time when musicians' careers operated in accordance with logical principles. An album cycle would come around, and an artist would announce a release date, drop the album and then tour. In today's post-Beyoncé world, nothing is that simple.
In 2015, listeners got everything they never could've dreamed of and almost nothing they were actually looking forward to. Only a handful of the major drops that had been teased from the very beginning of the year actually materialized. In their place, we got some of the most creative publicity stunts music has ever seen — several of which backfired spectacularly on their artists. 
This constant musical tease made 2015 one of the most frustrating years music fans have seen in a long time. Here are nine reasons why 2016 has to do better.
1. Frank Ocean all but fled the internet.
Going into 2015, one of the only album drops we actually had reason to anticipate was Frank Ocean's latest, likely titled Boys Don't Cry. He teased a photo on Tumblr of him holding up a magazine with that same title, suggesting the album would come with some accompanying reading material. It was previously hashtagged "July 2015." Come July, however, no album surfaced. Fans began a massive public mourning on Twitter, asking Ocean for just a sign that he was alive and working on the album. But fans got nothing from him but a Trump rant in November.
2. Rihanna is still not done with her album.
Speaking of sloppy album rollouts, Ocean's silence may be more tolerable than what Rihanna's currently engineering with her Anti campaign. Fans have been speculating that the album was just around the corner all year, ever since she dropped its first single "FourFiveSeconds" in January. Some 11 months later — after two more singles, even more videos, a virtual reality smartphone experience and live scavenger hunts — we learn from Sia that Rihanna's still looking for songs to fill out the album.
3. Kanye West reached astounding new levels of Kanye.
Kanye released the first song of 2015, dropping "Only One" at midnight on New Year's Eve. It was the first of his collaborations with former Beatle Paul McCartney. However, it has yet to materialize into an album. The celebrities that have heard it at various stages — Seth Rogan, Pusha T, Lamar Odom — say it's fire. But in place of a release date announcement, all fans have is news that West will be running for president in 2020.
4. We got another terrible song of the summer.
Last year Iggy Azalea's "Fancy" took home song of the summer to the great dismay of the internet. This year the prospects weren't much brighter. For most of the summer it was a toss-up between Omi's "Cheerleader," which was originally released in 2012, and Wiz Khalifa's "See You Again," which was more notable for the person it eulogized (Paul Walker) than for being a good song in its own right. "Cheerleader" won out, and while it's not nearly as problematic as 2013's song of the summer, Robin Thicke's "Blurred Lines," it still has its fair share of sexist undertones.
5. "Blurred Lines" continued to ruin pop music.
Speaking of "Blurred Lines": One of the most absurd stories in music was the February trial attempting to determine whether Thicke and Pharrell's song ripped off portions of Marvin Gaye's "Got to Give It Up." Reports from the courtroom were absolutely wild, filled with piano medleys and Thicke's stunning "blame it on the alcohol" defense. The jury eventually sided with Gaye's family, essentially sending a message to pop artists to be extraordinarily careful with every classic-sounding melody or rhythm they look to borrow.
6. Miley Cyrus' released a half-baked psychedelic album.
During the climax of the debacle that was Miley Cyrus hosting the 2015 MTV Video Music Awards, she announced the release of a free mixtape Miley Cyrus and Her Dead Petz. After the mad dash to download it subsided, the album turned out to be a weighty 23 tracks of Flaming-Lips-inspired psychedelic pop, which had very little replay value at the end of the day. It was an ambitious and interesting release in theory, but intolerable in execution.
7. Taylor Swift's empire began to show its cracks.
In 2015, we hit peak Taylor Swift. America's endearingly clumsy, earnest, songwriting sweetheart revealed herself to be a shrewd empire-builder. Her "Wildest Dreams" video tapped into a long history of painting the African continent as a feral and exotic landscape, rather than as a home to 1.2 billion African people. She tried to force herself into Nicki Minaj's discussion of the media's treatment of black bodies. When she added Julia Roberts and Joan Baez to her squad on-stage during the 1989 tour, it felt awkward and forced. If she had decided to bring up the Blair Witch, as the viral "Please Welcome to the Stage" parody video suggested, it would've likely fit better with Swift's act.
8. Martin Shkreli bought the lone copy of Wu-Tang's Once Upon a Time in Shaolin — and got arrested before he could share it with the world.
The Wu-Tang Clan intended its one-of-a-kind art album Once Upon a Time Shaolin to serve as a thought experiment, encouraging consumers and the industry to rethink the way they value music. When they sold the lone copy of Shaolin for $2 million to pharma bro Martin Shkreli, they made an excellent business deal — yet the notoriety of the purchaser has forever tainted the album's legacy.
It's doubtful Shkreli would have shared the album with the world. He preferred using it as bait to encourage Swift to come over to his house and perform unspeakable acts upon him. When he got arrested on Thursday for securities fraud, those last remaining hopes that fans would see the mythic album all but dissolved. 
9. Drake and Future's What a Time to Be Alive wasn't quite the next Watch the Throne.
On paper, it seemed like a match made in hip-hop heaven: hip-hop's premier hook-maker, Drake, working with one of the architects of the most unique sonic styles in modern rap, Future. What a Time to Be Alive couldn't help but make waves. Yet what the two actually put to wax didn't quite have the staying power fans hoped it would. After week one, the album experienced one of the worst sales drops in hip-hop history. The project lacked "cohesiveness and chemistry," as Hypebeast wrote, and the reader's poll it set up agreed.