9 Things We Legitimately Want from the American Girl Catalog Even Though We're Grown-Ups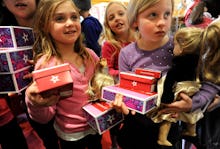 Let's paint a picture: You are nine years old. The mail just came. Your mom says you got something. It's December-ish. You rush to her side. Do you know what it is? Do you know what you got? OF COURSE YOU DO. 
It's the fucking American Girl catalog. 
A hallmark moment of so many girls' (and hey, boys'?) holiday season was flipping through those pages and circling things your mother would never buy you. It was great. It was invigorating. And we miss it. 
So Mic decided to take a stroll down memory lane to see at what American Girl offers now. Spoiler alert: Your favorite doll is probably dead (aka "archived"). But don't worry: Samantha Parkington's bed still stands, Addy Walker's belongings are still unfairly uncool and Kit Kittredge's clothes are still on point. More importantly, some of these new dolls' styles are actually top notch. 
That's because American Girl dolls are and have always been next-level as toys — teaching U.S. history and opening kids' eyes to other cultures, all while keeping up with current trends better than real girls even can. 
That is still true in 2015. Which is why, of course, the dolls cost a plastic arm and a leg. When you go onto AmericanGirl.com to check it out, you're faced with a disclaimer: "Next Stop: The American Girl shopping site. This site is intended for grown-ups only." That sounds awfully porn-y, but we imagine it's so girls don't log on and send their parents into spiraling debt.
So we clicked in and immediately felt at home. It's like they were expecting us. Here are all the things currently filling American Girl doll catalogs that we full-fledged adults really, really want.
This pizza party that shits all over Samantha's dainty tea set
Remember in the dark ages when the most encouraged "meal" to have with our dolls was a tea party?  (We're looking at you, lame Victorian-era Samantha Parkington.) Remember when the world was that cruel?
Now, with the help of American Girl, you can treat your dolls right and have a pizza party. This set, which is marketed with no doll in particular because pizza is for everyone, comes with fake soda, a gameboard and a pizza in the shape of a heart. A heart! 
Now all you have to do is teach your doll how to order Dominos from her phone while intoxicated and the future is officially now. (By the way, this set is $34, about the price of an actual pizza party.) 
Julie's entire hippy, dippy, trippy bedroom set 
Sure, we may all act cool with our white marble minimalism and birchwood, but let's be real for a second: You want this psychedelic masterpiece. A bed with beads? An egg chair that plays music? A vanity shaped like a flower? American Girls' favorite nine-year-old stoner from the '70s, Julie Albright, got the hook up with this one. 
Although the bed comes straight from a Grateful Dead acid trip, we actually think the vanity, priced at $60, is the real winner. It's shaped like a goddamn daisy and comes with an owl clock, a fuzzy chair and a relatively useless brush. This puts your cramped bathroom sink — and everything else in your apartment — to shame.
Maryellen's Netflix-and-chill-ready sofa bed 
At CB2 right this very second, a million girls are screaming at their mothers to buy this couch for their first studio apartment. Marketed for Maryellen Larkin, American Girl's new blonde girl from the '50s (groundbreaking), this couch and its accompany pup would look great in the cramped shoebox we call home. 
Also, the notable fold-out bed feature makes Netflix and chillage easier than ever. Which means it would be perfect for Maryellen, who is supposed to be 9 years old in 1954, in about 10 years — or us right now. Priced at $150, this miniature couch is right in our range. 
Julie's incredibly unhealthy lunch
Death to the sad desk salad. In Julie's world, lunch is all about Hostess cupcakes, Doritos, a thermos for vodka milk and a mysterious ham sandwich. It's like what you ate every day in college all over again! And yet priced at a miraculous $28, it's probably 10 times what you would be able to afford in college, and 20 times what this lunch would have cost in the '70s, but life is short and American Girl products are forever. 
According to the comments below the product, this apparently is a pretty accurate midday meal. "If you were born in the '70s or grew up, this lunch sure will bring back memories!" writes mom2agfans. We trust her. 
Kit's hipster reporter set because, well, obviously 
How fucking cute is this? The reporter kit is for American Girl's Kit Kittredge, who's known as the spunky, resourceful girl from the 1930s with great 2015 taste. Not only does she have the cutest dresses, but she's also a wannabe journalist, complete with a $28 kit that includes a camera, a newspaper and photographs that are basically like your best Instagrams. Look at that little notepad! A modern career woman in the making.  
If you feel like investing more in Kit's future, you can always buy her this $50 typewriter, which does not work but hey, neither do most typewriters today. 
These bejeweled leggings for when our dolls are hungover 
American Girl is onto us, guys. They know our weekend routine of never, ever, ever putting on pants. Hey, this is how little girls can learn what's awaiting them in their lazy futures. (You may be into those frilly dresses now, Josefina Montoya, but it's time to get realistic.) 
The bejeweled leggings come with two pairs of socks for perfect lounging on a cold winter night or throughout an entire weekend. Plus, they're priced at $12, right around how much leggings are at Target for real human girls. 
Kit's trendy AF table and chairs that might as well be from Anthro
Although Kit Kittredge lived in a time when everything was flaming garbage (also known as the Great Depression), she still had the best merchandise. We believe that's called "perseverance." 
This $90 table and chair set, for when she *doesn't* have tea parties, is downright pretty. From the on-trend color (jade green!) to the retro style, it's straight out of an Anthropologie catalog today. (Seriously, just look at this chair.) Just think about how cute this pop of color would be in the boring, cramped white jewelry box you call home.
Samantha's gorgeous bed we could never afford in real life 
Much as some American Girl fans might have found spoiled brat Victorian-era Samantha Parkington irritating, girl had a good bed. Samantha's original bed was a shiny brass chariot of privilege, but it's since been revamped to be even more extravagant. 
What may be the American Girl catalogue's most prized possession, this bed is made for the goddamn Queen of England. It has a pink, lacy canopy, a woven, white headboard and a white tufted duvet with pink flowers. In comparison, this is Addy's bed. Samantha's bed is what girls across American dreamed about when they slid into the sheets of their twin-sized bed with a floral quilt. 
Samantha is nine years old and 18 inches tall. This bed is $150. Why does she get to have this and we don't?
These temporary, no-risk bangs for when we're going through a crisis 
You know, like we know, that bangs signal a crisis. Just quit your job? Cut your bangs. Broke up with partner? Cut your bangs. Just watched Amelie? Cut your bangs. Bangs are an international sign for "I am going through some major shit."
This genius product allows your doll to temporarily try on these bangs, like you wish you could have done when you dramatically cut yours when you were 20 and thought you were French waif. Available in shades blonde, caramel, red, brown and dark brown, it looks like AG wants all of their dolls to have this glorious opportunity for the low price of $20.
Because AG is a genius company, they've also provided a video tutorial. It's magic! 
Clearly, American Girl is just as awesome as we remembered it, if not even better and trendier. The pizza party set! The sofa bed! All we ask now is for Addy to get better merch, and for Felicity to be brought back to life.