Here's How Instagram Is Changing the Clothes We Buy and Wear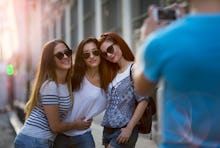 When you post your #OOTD to Instagram, more people are paying attention than you realize.
Fashion retailers and designers, from the biggest international chains to the tiniest Etsy boutique, are keeping careful tabs on what you're wearing, sharing and saying online — and now more than ever, they're adjusting their business models based on it.
"Instagram has transformed the way retailers plan their businesses in so many ways," Tosha Cole Clemens, owner of a fashion public relations and brand agency, told Mic. "Instagram is great for trend inspiration, which then gets translated into actual designs and then later those Instagram influencers are used as brand ambassadors."
Yes, inspiration is key. But it goes further than that, beyond simply gathering up shots of flowers, food and nature to inform a color palette. 
Instagram helps brands figure out what we want to wear.
Designers once had to seek out inspiration the old-fashioned way: trawling the streets, libraries, art galleries and anything else under the sun, for "inspiration" that could inform their designs. Now they have their feeds.
As Balmain's Olivier Rousteing put it, Instagram is "a new way of dreaming." More literally, a representative from Forever 21 told Mic, "Forever 21 looks at Instagram as a source of inspiration and as a visual platform from our brand to our millennial audience."
In a more practical sense, just as model scouts can now find fresh faces online, so can designers and retailers browse trends from around the world on their iPhones. See certain pants or shoes making their way around the app? A store like Forever 21 can fire up the factories to start producing them.
"Instagram makes it easier to see what styles are trending," Clemens told Mic. "It also allows brands to look to social media as a way of getting trends, instead of only replying on trend forecasting sites. [So] you can look at your target market very closely and give them exactly what they want. In return, this gives the brand more confidence in what to produce."
Retail analyst Sophie McCarthy echoed that point to the Independent. "What [Instagram] does is [it] allows consumers to dictate trends," she said. "If a retailer is able to set up a way of responding rapidly to that, then it could be a massive benefit for them."
Designers are making clothes that look good on screens.  
Womenswear brand Proenza Schouler ruffled some high-fashion feathers in November when its designers admitted they consider how clothes will look on Instagram when making them.
"It's not just about the clothes," Lazaro Hernandez, one half of the design duo behind the brand, told the audience at Fast Company's Innovation Festival. "It's how they look on screen."
Jawbreaking, an online store that sells pop culture-inspired fashion (think "kale shmale" T-shirts and brunch-themed sweatshirts), also considers how its products will translate online.
"You have to think about if certain things will photograph well or how you will continue to showcase a certain product over and over in a new way so that your followers don't get bored of seeing it," founder Aly Silverio told Mic.
So what looks best in an Insta pic? Prints should be used sparingly to keep photos from looking too busy, stylist Caley Lawson Rinker told Refinery29, while waist-cinching belts get the thumbs-up from celebrity stylist Emily Barnes for their shaping benefits. Selfies in particular look best with accessories that frame the face, like wide-brimmed hats or even "selfie shirts" (yes, they're a Thing — shirts with patterns around the neckline created by London designer Timur Kim). 
Clothes that give wearers endless photo options take things to the next level, like Fendi's new DotCom bag, which boasts interchangeable straps for Insta variety. In every way, designers can no longer operate without Instagram in mind.
"We just recently began to shoot the looks with Instagram in mind since that is how most of my customers see our newest images first," designer Tennille McMillan of Nakimuli told Mic. 
Instagram influences which clothes you see in store.
The clothes we "like" also guide retailers' buying and display decisions in actual brick and mortar stores.
"If an item is outperforming on social media, we are able to use this information to inform our buying team to reorder the product as needed," a rep from Forever 21 told Mic, adding that how posts perform on the platform functions as "an indication of favorability of product."
"Based on the comments and amount of likes a design gets, we know to keep selling that item. It's always good to see people tagging their friends in comments saying 'We need this!!'" Jawbreaking's Silverio confirmed to Mic.
Alexander Wang even invited his Instagram followers to vote on which items they wanted the designer to bring back for his label's 10-year anniversary collection. It's a win-win: Customers feel listened to and involved, while designers produce clothes they know customers love — and are more likely to buy.
It even impacts how those clothes are arranged. "What [stores] can do is flip around their in-store merchandising and say, 'This look is popular, we've got this dress and those shoes, let's take them out of the back and pull them forward,'" McCarthy told the Independent.
All of which means the power is in your hands.
Livestreamed shows, accessible bloggers and the ability to interact directly with brands famous for their icy sales associates brings the fashion industry within our reach. Instagram, more than any other social network, is revolutionizing fashion (so much so that the app won an award from the Council of Fashion Designers of America this year).
And brands are watching. They want to know what you're wearing, what you're liking and what you're coveting. It's an unlikely consumer revolution that has awarded shoppers power through selfies (even if Karl Lagerfeld does consider self-portraits "electronic masturbation"). 
So while the revolution may be filtered, it is happening. If you want to see more of what you like, get hashtagging.