Muslim Family Out $13,400 Trip to Disneyland After US Officials Deny Entry to America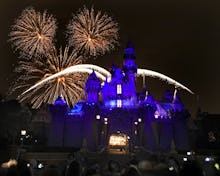 Disneyland is "the place where dreams come true." As long as you're not Muslim, it would seem.
Stella Creasy, a British Labour Party member of Parliament, has written to Prime Minister David Cameron asking him to intervene in the United States' Homeland Security Department's last-minute banning of a Muslim family on their way to visit Disneyland. 
Just before Creasy's constituents, a British Muslim family of 11, were about to board a flight from Gatwick Airport south of London to Los Angeles on Dec. 15, Homeland Security agents pulled them aside. Mohammad Tariq Mahmood, his brother and their combined nine children, were all told their pre-authorization to enter the U.S. had been revoked, before being ordered to return their duty-free purchases and ushered out of the airport.
"It's because of the attacks on America — they think every Muslim poses a threat," Mahmood told the Guardian.
The family had spent months saving for the trip and will not be compensated for the £9,000 (approximately $13,400) they spent on the airline tickets. Creasy has therefore called on Prime Minister Cameron to inquire into the decision to ban the family from entering the U.S. both on financial and ideological grounds. 
"Norwegian Air's small print states that if you are refused entry it has no liability — and without any information from Homeland Security, the family cannot query whether this clause is invoked on fair or unfair grounds," Creasy wrote in a Guardian op-ed published on Tuesday.
"Widespread condemnation of Donald Trump's call for no Muslim to be allowed into America contrasts with what is going on in practice," she added. 
A spokeswoman for Downing Street, the Prime Minister's place of work and residence, said he would consider Creasy's concerns and "respond in due course," the Guardian reports.
In her op-ed, the Labour MP explained America's Islamophobia has far-reaching implications for other countries, isolating Muslims in the process. "Because this isn't happening in the U.S. It's happening on British soil, at our airports and involving our citizens and challenging their sense of place in our society too," she contended. 
Other British Muslims have reportedly faced similar experiences, being banned from traveling to the U.S. without being given a reason why. 
"While the philosophy of ISIS may seek to corrupt Islam and divide our world, our actions should actively protect its true peaceful nature, both at home and abroad," Creasy argued.