Long-Awaited Footage Released of San Diego Officer Killing Unarmed Man With Mental Illness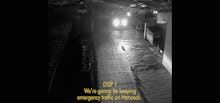 San Diego County District Attorney Bonnie Dumanis on Tuesday evening released security camera footage of police officer Neal N. Browder fatally shooting Fridoon Rawshan Nehad on April 30. 
Browder, a 27-year veteran from the San Diego Police Department, was responding to a 911 call by a local adult bookstore employee, who alleged the 42-year-old homeless Afghan immigrant had threatened people with a knife. Nehad, however, was found unarmed, clutching a blue pen, after he was shot in a nearby alleyway. 
According to Nehad's family, he was kidnapped by the Taliban as a teenager in Afghanistan, subsequently producing post-traumatic stress disorder and manic episodes, both of which he was being treated for.
Browder was equipped with a body camera, but he did not turn it on. 
Dumanis found that Browder was legally justified in killing Nehad and announced Nov. 9 that she would not press charges. After a number of media outlets successfully lobbied local courts to mandate the release of the video footage, which law enforcement had fought to maintain secret, Dumanis decided to simultaneously release a curated selection of evidence to offer a more comprehensive view of events.
"The community should have the ability to weigh the video alongside other evidence that provides a more complete picture of what happened," Dumanis said during a press conference on Tuesday night, which lasted almost an hour, Raw Story reports.
The family is suing the city for $20 million, and an FBI and Department of Justice investigation into the fatal shooting has been launched. 
"All you have to do is look at it," Skip Miller, the Nehad family lawyer said when arguing the shooting was unlawful, the Associated Press reported. "It shows a guy sort of ambling along, minding his own business, not engaged in any criminal activity."
The incident has incited controversy within the city, as it becomes yet another in a long list of police officers fatally shooting unarmed people of color across the country.
Community organization United Against Police Terror — San Diego arranged a rally for Nehad in May, demanding the release of the surveillance footage being withheld at the time.
"Fridoon Rawshan Nehad was a homeless Afgan citizen who was seeking asylum in the U.S. He was diagnosed with schizophrenia and bipolar and was known to suffer from hallucinations," the group wrote on the event Facebook page.
"United Against Police Terror — San Diego demands that this officer be held accountable for his costly action," they added.
(Editor's note: The following surveillance footage contains disturbing images. View with discretion.)
Correction: Dec. 23, 2015