Joss Stone Was Named Billboard's Reggae Artist of the Year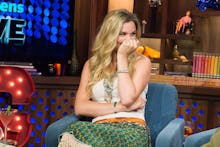 According to Billboard, a white woman ran reggae in 2015. 
As a part of its year-end round-ups Tuesday, Billboard declared Joss Stone, the 28-year-old British soul singer-songwriter, its reggae artist of the year, over Bob Marley, Jah Cure and all the other Jamaican artists of the world.
As could be expected, the announcement sent alternating shockwaves through the Twittersphere. Some users are pointing to it as yet another example of white artists dominating historically black genre — like Adele becoming the face of modern soul and Justin Timberlake winning R&B Grammys. As far as Twitter is concerned, Stone is the Iggy Azalea of reggae.
The award was based off a single metric, which Billboard took pains to point out: chart performance. Stone's recent reggae foray, Water for Your Soul, sold better than any other new reggae album in 2015, moving 29,000 units. However, it still sold less than Bob Marley and the Wailers' greatest hits album Legend, released in 1984, which sold 191,000 in 2015. 
According to one of Billboard's own review, Stone's reggae effort was middling at best, receiving two out of five stars. "The songs are technically impressive, as expected from Stone, but unconvincing," wrote Billboard's Steven J. Horowitz. "She apes patois (on the bopping 'Cut the Line') and even Barrington Levy's ­signature 'skippity bop' (on 'Harry's Symphony') in wince-worthy fashion."
If nothing else, it speaks to sales being an inadequate metric to judge music's quality or impact. Black reggae artists have working for years to draw attention to their music. Stone's ability to drop a half-baked reggae album and easily win the year shows how skewed the playing field is. 
In general, white artists operating in black genres tend to have a much easier time appealing to the majority in the United States' music market, which Billboard's charts reflect. Think of the chart success of Azalea or Macklemore, who both mixed a healthy dose of pop into rap to make marketing gold. They both got showered with accolades for their efforts. 
Stone even admitted she didn't make a pure reggae album. "I made a deliberate decision to not make it a straight reggae record," she told FaceCulture. "That's very conscious and not an accident because I don't want to annoy anyone and I just want to enjoy music and become part of whatever it is I'm doing."
Billboard's charts, however, didn't take these subtleties into account, and thus the climate on music Twitter is dire.