Hacker Charged After Allgedly Trying to Sell Celeb Sex Tapes, TV Show Scripts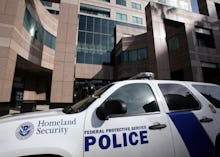 Nick Ut/AP
Alonzo Knowles, 23, was arrested Monday in New York and charged with felony criminal copyright infringement after being busted in a celebrity and network hacking sting. According to a statement from the Southern District of New York's U.S. Attorney's Office, the Bahamas man was allegedly accessing email accounts from professional athletes, Hollywood actresses and even major television networks, to use them to obtain sex tapes, TV show scripts and personal information like Social Security numbers. 
"This case has all of the elements of  the kind of blockbuster script the defendant, Alonzo Knowles, is alleged to have stolen: hacks into celebrities' private emails, identity theft and attempts to sell victims' information to the highest bidder," Preet Bharara, Manhattan U.S. Attorney, said in the statement. "Unfortunately, these circumstances are all too real.  I want to thank [Homeland Security Investigations] for their quick work to stop Knowles' alleged intrusions and his efforts to profit from the information he stole."
Knowles was being watched in an extensive investigation after allegedly contacting a popular radio host and offering to sell him forthcoming TV show scripts, 30 unreleased tracks from an A-list artist and the Social Security numbers of other prominent figures. To prove his abilities, the hacker allegedly sent the radio host another host's private photos and videos from their email he had illegally accessed. 
Authorities recorded Knowles allegedly explaining how he accesses celebrity emails and breaches personal security measures — one option involves attacking a computer and hacking into the hardware in order to get onto a personal account. The other requires a user to respond to a phony email, ironically stating the account has been hacked and passwords will need to be sent back as a security measure. 
Once the hacks were complete, authorities said Knowles apparently had access to just about anything he could find, from copies of passports to details about the personal lives of household names.
After unknowingly agreeing to meet with an undercover agent and allegedly sell him the identities of at least four public figures and 15 scripts from upcoming projects in exchange for $80,000, Knowles was quickly arrested and appeared in a Manhattan federal court in front of United States Magistrate Judge Henry B. Pitman on Tuesday. 
Knowles is facing a maximum sentence of 10 years in prison.
"This arrest brings down an alleged email hacking scheme that targeted many individuals, including some in the entertainment industry," Sorge said in the statement following Monday's arrest. "As cyber-crime becomes more pervasive, this operation embodies HSI's commitment to target those who use the cyber world for illegal financial gain."