There's Now an Even Hotter "Fashion Santa," Because Santa Can't Just Be Santa Anymore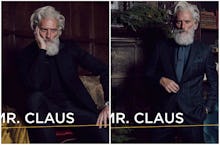 For years, Santa was jolly, round, red-faced, white-bearded and, well, not so conventionally attractive. But that's so 2000-and-late. 
This year, "Fashion Santa" has taken over. First introduced to us by Toronto's Yorkdale Shopping Centre in early December, the first Fashion Santa was slim, rather than round-bellied. Instead of a round, red face, he's got high cheekbones. Instead of the bright red two-piece with white trim, he's well-dressed in long, elegant coats. He's studly, rather than stout.
But now Canada's Fashion Santa is being outdone by an even hotter Santa.
Meet Mr. Claus. 
The sexier Sexy Santa: Thanks to BuzzFeed and Fusion, we've been introduced to another sexed-up Santa figure. According to Fusion, reporting from Mexico, Mr. Claus is employed as a model for El Palacio de Hierro, one of Mexico's largest department stores. 
Instead of posing for throngs of thirsty fans, Mr. Claus poses for many of the store's advertisements for chic outerwear. His hair is coiffed just so, and his bone structure is a dream. So, naturally, there's now a hashtag campaign for him: #QueridoMrClaus, or #DearMrClaus. 
For days, people have been tweeting about their thirst, and Mr. Claus even got his own Facebook page, which already has more than 46,000 likes. 
But Mr. Claus doesn't fancy himself a sex symbol, apparently. After numerous posts about how dashing Mr. Claus is (and a poll by BuzzFeed about Santa's sexiness), Buzzfeed Mexico actually got a letter from Mr. Claus himself, in beautiful cursive, no less. 
"I don't consider myself a sex symbol," he wrote, "but who wouldn't enjoy reading the results of your [Is this Santa sexy?] poll?"
So he's smoldering and a little shy? Perfect. 
Santa, redefined: For whatever reason (boredom, horniness, the internet), the image of what Santa Claus looks like was redefined this year. The "sexy santas" in both Toronto and Mexico are fitting into our current status quo of what a silver fox can be, with help from fashion brands supplied by mall retailers.
Seriously, check out Canadian Fashion Santa's threads.
In Portland, Oregon (of course), Santa Claus was all about hipness, not hotness. In a less stimulating makeover, one Portland mall employed a resident "Hipster Santa," who came complete with wide-rimmed glasses and a man bun.
Instead of a sleigh, this Saint Nick rides around on a bicycle and instead of surviving off the cookies children across the world leave for him, he loves kale. 
Apparently in this day and age, jolly ol' Santa just isn't good enough. Now, he's gotta be sexy and he's gotta be hip. We guess that's OK...as long as he still gets us what we want this year. Thank goodness Santa's never had better taste.
h/t BuzzFeed