Beatles Music to Debut on Tidal, Apple Music and other Streaming Services Christmas Eve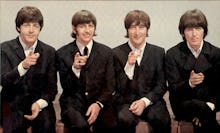 Chris Walter/Getty Images
"Happy Crimble, with love from us to you!" exclaims the Beatles website, announcing that Christmas is coming early for fans of the pop pioneers: The entire Beatles catalog will be available to stream on subscription services "the minute Christmas Eve arrives." Starting at 12:01 a.m. in every time zone on Dec. 24, fans can deck their halls with such festive Christmas classics as "Yellow Submarine," "Rocky Raccoon," "Maxwell's Silver Hammer" and "Eleanor Rigby." Maybe throw a little "Norwegian Wood" on the fire? Whatever sets the Crimble mood.
"It's a pretty historic moment," Grace Kim, a Tidal spokesperson, told Mic. "For this team and these artists to want to come onto streaming and make this music accessible to fans ... it's a very exciting time for us," she said. "It feels right."
"There's probably no better gift in the music world," she added.
Jay Z-owned Tidal is a streaming service that features high-fidelity sound and is curated by artists to include music, videos and exclusive editorial content. Celebrity shareholders include Kanye West, Madonna, Alicia Keys and Daft Punk, and while membership is somewhat pricey — $9.99 for a premium membership; $19.99 for a HiFi membership — the CD-quality sound may prove worth it for music buffs. Other listening options include Apple Music, Deezer, Google Play, Microsoft Groove, Amazon Prime, Rhapsody, Spotify and Slacker.
Why now? The thing about the Beatles' music is that none of the surviving band members (Starr and McCartney) currently own it. The rights to most of the Beatles catalog went to Michael Jackson in 1985, when he purchased ATV — the previous rights-holder — at auction, outbidding McCartney and effectively ending what had been a burgeoning friendship. Jackson merged ATV with Sony Music a decade later. The rights still sit with Sony/ATV, although the legal situation is complicated due to the staggering debt Jackson left after he passed away in 2009. McCartney will begin to get rights to the Beatles catalog back in 2018, per the U.S. Copyright Act. The reasoning behind the decision to stream the backlog is unclear, but hey, it's best not to look a gift horse in the mouth.  
This Christmas gift is a fitting and thunder-stealing way for a band that once called itself "more popular than Jesus" to celebrate his birthday. Check out the streaming preview below.
Dec. 23, 2015, 11:08 a.m.: This story has been updated to include the name of Tidal's spokesperson.