17 Gut-Wrenching Photos Show the Crisis Everyone Needs to Remember This Christmas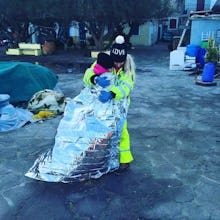 Lesbos, Greece — The sheer numbers are truly staggering.
Globally, there are now more than 60 million refugees, internally displaced people and asylum-seekers around the world, compared to 38 million just a decade ago, according to the UN High Commissioner for Refugees. More than 1 million people crossed into Europe as refugees and migrants in 2015 — a fourfold increase compared to last year, according to the International Organization for Migration. More than half of Syria's population of 23 million people has been displaced since the civil war began in 2011, with more than 1 million people fleeing the country in 2015. 
In Lesbos, Greece, a small island located just six miles from Turkey that has become a crucial waypoint for refugees entering Europe, 406,206 refugees had arrived as of Nov. 20, according to the UNHCR. Despite the winter temperatures, and increased patrolling by Turkish authorities, the total number of refugees continued to surge this fall, with approximately 125,000 refugees landing by boat on Lesbos in October alone.
No statistic, however, captures what this crisis feels like on the ground, for the refugees who risk everything to journey across the dangerous waters of the Aegean Sea to attempt to build a new life in Europe. 
I spent the past week in Greece, watching as refugees, piled by the dozens into small and flimsy inflatable boats, made landfall on Lesbos' shores, one after the next and often in the middle of the night. The majority of refugees come from Syria, Afghanistan and Iraq. Each has their own harrowing story of what life was like in the place they once called home, whether fleeing the Taliban in Afghanistan, watching a family member get murdered by Islamic State militants in Iraq or seeing their home get flattened by airstrikes in Syria. Once they arrive on Lesbos, refugees receive immediate medical assistance from international and local humanitarian aid organizations, before attempting to continue their journey to the north of Greece, with the hope of settling in a country in western Europe.
The following photos show what the worst humanitarian crisis since World War II actually looks like on the ground, for the desperate refugees who attempt this dangerous journey.
1. A spotter sits atop one of the highest points in Skala Sikamineas, a small village in northern Lesbos, ready to signal to aid workers that a refugee boat is approaching.
2. A boat full of refugees makes landfall, guided to safety by international aid workers and local volunteers. Dozens of boats can arrive in a single day.
3. The inside of a refugee boat after making landfall, full of clothes, bags and frigid water from the Aegean Sea.
4. Aid workers provide thermal blankets and medical support to refugees, who are often shivering and emotionally distraught after the treacherous journey.
5. Many women, children and elderly people make the journey to Lesbos, despite the many risks.
6. Here, aid workers help guide a disabled refugee to safety.
7. Workers with the Hellenic Red Cross guide a refugee to a nearby medical clinic, which has been set up by locals in the village of Skala Sikamineas.
8. An aid worker provides physical and emotional support to a young girl who just arrived in the harbor of Skala Sikamineas.
9. A view of the beach in the aftermath of a refugee boat arrival. Lesbos' beaches are littered with life jackets, plastic bottles, deflated rafts and trash.
10. A group of refugees who have just arrived watches from above as another boat prepares to land on Lesbos' shores below.
11. Refugees eventually make their way by bus to the Moria detention center, outside of Lesbos' capital Mytilene, where they are registered by Greek authorities and issued temporary visas.
12. Moria is overcrowded and the conditions are squalid. Refugees are divided according to their nationalities, and Syrian refugees are given preferential treatment.
13. Buildings in Moria are covered with graffiti art and spray-painted slogans, including this one, which reads "Freedom of movement."
14. Another spray-painted wall at Moria, with the message, "No one is illegal."
15. Eventually, many refugees make the journey via bus or train to the north of Greece, where they are processed by Greek authorities at the Idomeni detention center, which sits on the border with Macedonia.
16. Syrian, Afghan and Iraqi refugees are given preference to cross the border at Idomeni. In recent weeks, refugees from other nationalities, including those listed below, have been turned away and forced to stay in temporary shelters run by international aid organizations.
17. Many of those who cannot cross have established temporary shelters like this one inside abandoned train cars and in the fields that sit outside Idomeni. The Greek authorities recently cleared these locations, forcing many refugees back to Athens.