'Real Housewives of New Jersey' Star Teresa Giudice Released From Prison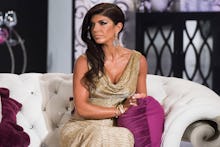 Bravo/Getty Images
Real Housewives of New Jersey star Teresa Giudice is heading home for Christmas: The reality TV personality was released from the Federal Correctional Institute in Danbury, Connecticut, early Wednesday morning, ABC News reported. 
Giudice was sentenced to 15 months after pleading guilty to bankruptcy fraud and conspiracy to commit mail and wire fraud in 2014. She began serving her sentence in January and is being released early thanks to good behavior, Giudice's attorney, James Leonard, told ABC News.
Giudice's brand: In addition to appearing on The Real Housewives of New Jersey, Giudice was also a contestant on NBC's The Celebrity Apprentice in 2012 and is the author of a series of cookbooks.
After being released from prison on Wednesday, Giudice was driven to her home in Montville, New Jersey, where she will be able to celebrate the holidays with husband Joe Giudice and their four daughters — Gia, Gabriella, Milania and Audriana — People reported. Joe Giudice also pled guilty to fraud, and his 41-month prison sentence is scheduled to begin in March, according to ABC News.
What does this mean for season seven of RHOJ? Teresa Giudice will reportedly return for season seven of Real Housewives of New Jersey, which was set to begin shooting this past November, according to E! News.
In October, Teresa Giudice and her husband were featured in The Real Housewives of New Jersey Teresa Checks In, a three-part special about her family and the effects of her time in prison. Although Teresa Giudice did not appear on-screen, recordings of her voice were featured. 
Correction: Dec. 23, 2015