Plus-Size Model Ashley Graham's 'Sports Illustrated' Ad Was One of Top Moments of 2015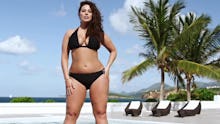 If there's any reason Sports Illustrated's swimsuit issue matters, this would be it.
Ashley Graham is one of the top "plus-size" models working in fashion right now, but it was her groundbreaking inclusion this year in an advertisement in this year's swimsuit issue — the first-ever plus-size ad to run in the magazine — that got her noticed. Graham earned a spot on 20/20's #TheYear list of notable people, which aired Tuesday night and was hosted by Robin Roberts.
In the ad that ran in the magazine, Graham showed off her figure in an black bikini. The ad was part of the #CurvesinBikinis campaign created by the online store Swimsuits for All, which specializes in swimwear for curvier body types.
"To me, it made such an impact because you could see my full body," Graham said in a video for 20/20. 
Plenty of bikini-clad bodies have graced Sports Illustrated's pages, but few have been bigger than a size 2 or 4. By putting Graham alongside the other swimsuit models, the magazine presented a different beauty ideal sans judgment or comment and showcased some much-needed body diversity. And they did it for a wide, mainstream audience.
"I know my curves are sexy and I want everyone else to know that theirs are too. There is no reason to hide and every reason to flaunt," Graham said of the ad when it debuted in February, according to the Huffington Post. "The world is ready for more curves in bikinis."
Graham has spent the entire year advocating for that kind of exposure and body diversity, though mostly in the fashion realm. She's been working with Lane Bryant on its #PlusIsEqual campaign, and in May, she gave a motivational TEDx lecture in which she looked at herself in a mirror and assessed her flaws.
"I felt free, once I realized I was never going to fit the narrow mold that society wanted me to fit in," she said in the TED Talk. "I was never going to be perfect enough for an industry that defines perfection from the outside in, and that's OK."
Getting to that place of self-acceptance, for models and "regular" woman alike, often comes from reminders that your body is beautiful, no matter its size. Which is why having Graham pop up in the pages of Sports Illustrated is an achievement worth highlighting. 
h/t Cosmopolitan