US Election Polls: Donald Trump Leading GOP Field at 39% in New CNN Poll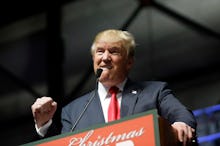 Up, up and away. That would be Donald Trump's motto, seeing that the GOP frontrunner and business tycoon keeps going up in the polls. In the latest CNN political poll released Wednesday, Trump polled more than 10 points higher than any other GOP candidate at 39%. His numbers increased by 3% since CNN's previous Dec. 1 poll. 
Regardless of the offensive comments he's made about several women and his plan to ban all Muslim immigrants from the United States, it doesn't seem like Trump's lead is going away. 
As per usual, Trump shared the "big news" on Twitter with his campaign slogan #MakeAmericaGreatAgain.
Texas Sen. Ted Cruz polled in second place at 18%. Cruz has remained, by a wide gap, Trump's top challenger in the past two CNN polls after former neurosurgeon Ben Carson's numbers plummeted. Carson polled at 22% in an October CNN poll and is tied with Florida Sen. Marco Rubio at 10% in the most recent poll. 
New Jersey Gov. Chris Christie polled at 5%, Kentucky Sen. Rand Paul at 4%, former Florida Gov. Jeb Bush at 3%, former Arkansas Gov. Mike Huckabee and Ohio Gov. John Kasich at 2% and former Hewlett Packard CEO Carly Fiorina at 1%. The rest of the candidates polled below 1% and South Carolina Sen. Lindsey Graham announced his withdrawal from the race on Monday. 
On Tuesday, a Quinnipiac poll found that 50% of Americans would be "embarrassed" to have Trump as their president, while 23% of voters would be "proud." The poll also revealed that 28% of Republican voters "would definitely not support" Trump as a presidential candidate.