NASA Dawn Mission Returns Closest Images of Dwarf Planet Ceres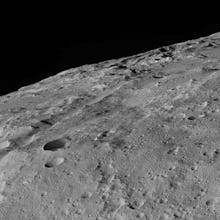 NASA/JPL-Caltech/UCLA/MPS/DLR/IDA
NASA released the closest images it has of the dwarf planet Ceres, which were caught in the Dawn spacecraft's last orbit. This is also Dawn's lowest orbit, cruising at an altitude of 240 miles, NASA reported.
On Dec. 10, Dawn picked up details of Ceres' surface, like grooves and troughs likely caused by impacts or internal stress. The work is part of a larger study of Ceres, as scientists have also been studying salt-like and ammonia substances found there.
Read more:
"As we take the highest-resolution data ever from Ceres, we will continue to examine our hypotheses and uncover even more surprises about this mysterious world," Chris Russell, principal investigator of the Dawn mission, said about the new images in the NASA statement.
This mission is the first visit to a dwarf planet and "the first mission outside the Earth-moon system to orbit two distinct solar system targets," according to NASA. The spacecraft joined Ceres' orbit on March 6, the International Business Times reported. The mission is set to end in June, when the spacecraft runs out of fuel, NPR reported.
Dawn has been studying Ceres from multiple altitudes. The first orbit was at 8,400 miles, the second was 2,700 and the third was 900, according to NPR.
Ceres, the largest object in the asteroid belt, has 130 bright spots on its surface, according to the Guardian. Findings, which continue to stream in, led scientists to believe that the dwarf planet has a dark insulating layer atop water in the form of ice or bound with salt.