The 15 Best Books, Stories and More We Read This Year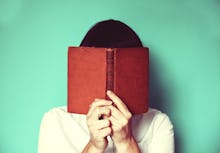 Mic is in the business of publishing many pieces every year. But every so often, we set our laptops aside and read something from a publication that isn't Mic — maybe even a book. This holiday season, our staff set aside time to search for these non-Mic pieces and books from 2015 that are worth your time. Consider it a last-minute end-of-year reading list.
The Argonauts by Maggie Nelson
In The Argonauts, Maggie Nelson draws upon her extensive knowledge of critical theory to create an engaging account of her experience falling in love and becoming pregnant. She is equally comfortable discussing the gender theories of Butler and Sedgwick as she is addressing her own real-life experiences of supporting her partner's shifting gender expression. In this way, Nelson is able to make gender theory personal and accessible to the reader while at the same time telling a moving personal narrative.
— Sam Kahrar, assistant video editor
Blackout: Remembering the Things I Drank to Forget by Sarah Hepola
Sarah Hepola has spent years reading and editing other people's personal stories; who knew we should've been waiting anxiously for her to finally tell her own. Blackout is beautiful and cutting and difficult to put down. Hepola's memoir is slim and might as well be shelved in the poetry aisle, a gut-wrenching narrative of addiction that is really about how damn hard it is to be a human being in the world. She's a practiced editor, so the book lacks any extraneous reflections on Hepola's years as a blackout drinker or the way quitting alcohol saved her; instead, her short, almost musical sentences say exactly what they're meant to, which is usually a truth about her nature or your own that most people would rather not confront. 
On the unseasonably warm days when I was reading it — days when it probably would've been nice to walk part of the way home from work — I didn't regret getting on the subway sooner than I needed to, just so I could settle back into the story and see how it all turned out. In Hepola's life and her work, it turned out more than OK.
— Jenny Kutner, senior staff writer
This is truly creative nonfiction. Combining solid research, great interviews and straight-up audacious craftwork, Karen Weise takes a fairly ordinary pitch — hey, follow up on that guy who was famous a year ago — and turns it into a stellar investigative piece. Go through it and you'll see that Weise uses every tool a journalist can to create a riveting story. She sets scenes, creates a narrative arc and there's tension by the boatload, as well. Weise appears in the story occasionally to move us through but doesn't show any emotion or judgment: She lets her subject do all the talking. And boy, does he say some things. 
— Mathew Rodriguez, staff writer
Elon Musk: Tesla, SpaceX and the Quest for a Fantastic Future by Ashlee Vance
This book is intensely motivating, in part because it shows us Musk as a simple web entrepreneur selling a Yelp-like local directory to newspapers. It's also a well-told and well-reported story of how a South African-born introvert became perhaps the most determined and productive person on the planet.
— Marcus Moretti, product associate
Fates and Furies, Lauren Groff
Novels about marriages are probably a dime a dozen, but a riveting book about a marriage is a rarer breed. Groff is an extraordinarily gifted writer. Her prose will dazzle you, and the plot reveals will leave you breathless. Don't take my word for it: President Barack Obama told People magazine that it was his favorite book of the year.
— Madhulika Sikka, executive editor
This is the epic story of one marriage, told first through the eyes of the husband, and then through the eyes of wife — the latter of whom kept a slew of dark secrets. The more you read, the closer you come to solving the mystery of Lotto and Mathilde's unusual relationship; in other words, it's tough to put down. Groff's prose is as stirring as the plot itself.
— Jordyn Taylor, staff writer
The Folded Clock: A Diary by Heidi Julavits
After re-reading her old diaries from childhood, Julavits decided she wasn't doing it right as a kid and wanted to give it another shot. The book covers two and a half years in Julavits' life as a 40-something professor, writer, mother and woman. The entries aren't chronological, moving between months and years. Each starts with "Today I," but many entries jump back into her memories. She takes us through both the tiniest and most monumental interactions that come together to make up a life.
— Ellie Kaufman, branded content staff writer
The Hard Thing About Hard Things by Ben Horowitz
The title says it all. Learn from someone who's done it — been in the trenches, leading his company from startup through hard times and into huge success. These are the firsthand lessons learned from one of the most highly respected entrepreneurs in Silicon Valley. Horowitz is the venture capitalist that the next generation of tech leaders turn to for guidance and advice.
— Trevor McLeod, director of product management
"'I'm No Longer Afraid'" by Noreen Malone and Amanda Demme for New York magazine
Listening to victims' stories shouldn't be such a challenge. We shut out those who say they've been hurt when it's easier to just deny that a beloved figure, a father figure, is the one under scrutiny. This year was revolutionary for turning that narrative around and allowing us to hear from Bill Cosby's accusers, and New York magazine's feature package was a huge part of that.
"'I'm No Longer Afraid': 35 Women Tell Their Stories About Being Assaulted by Bill Cosby, and the Culture That Wouldn't Listen" framed the story around the women in every way. It featured their images, their individual accounts told in their own words — which allowed this piece to stand out amid a lot of noise about this story. The power is in their voices.
— Kevin O'Keeffe, staff writer/editor
Mark Leibovich's New York Times magazine profile of the "ageless" TV and radio host is a hilarious and poignant meditation on media and mortality starring a man who lives by the old Vaudeville adage, "If you're not appearing, you're disappearing." It's classic magazine journalism, with too many quotable King moments to include here, so enjoy just this one: "The fear of a colonoscopy is unwarranted."
— Joel Topcik, branded content editor
George Bell died alone, obscurely, unnoticed for several days by the people sharing the same space in New York City. In 2015, investigating his life in the aftermath of the timorousness of his death, the New York Times uncovered a long, forgotten life's quiet secrets — and taught a masterclass on storytelling in the process.
— Joel Pavelski, director of programming
The Story of the Lost Child by Elena Ferrante
If you were a woman in 2015 who had a Barnes and Noble gift card and a modicum of reading comprehension, you probably fell in love with Elena Ferrante. Ferrante's Neapolitan tetralogy, a decades-spanning narrative of the female friendship between brilliant, fiery Lila and fragile, ambitious Elena, has garnered so much breathless praise that critics have referred to the author's growing fandom as "Ferrante fever." It's with good reason: The novels offer an almost uncomfortably accurate depiction of female friendship, and how it can both embolden and destroy you. (Taylor Swift's #SquadGoals this is not.)
Best of all, The Story of the Lost Child brought forth one of the most delightfully repulsive fictional antagonists since Darth Vader: the philandering, compulsively dishonest Nino Sarratore, the inspiration behind the genius Tumblr blog Fuck Nino Sarratore, a compendium of his fuccboi ways.
— EJ Dickson, Connections editor
I love this piece because it makes some very subtle but significant distinctions between being indifferent and daring to be different. The two are often confused. Not giving a fuck doesn't mean not caring, it means caring very much, but about the right things. Mark Manson makes the valid point that fucks are a finite resource. Where you decide to distribute them determines how happy you are.
— Liz Plank, senior correspondent
The Turner House by Angela Flournoy
The Turner House takes you right back to 2008 during the middle of Detroit's auto industry crash. You meet the 13 children of the Turner family who used to live on Yarrow Street, in a novel that pulls you in pretty quickly in its first chapter with a story about a "haint."  What's best about The Turner House is its dialogue — you can actually imagine a family having these conversations -- and Flournoy's attention to detail about the history of Detroit and how it informs the narrative. I remember laughing out loud and being enraptured in the storytelling.
— Erin Evans, Identities editor
WaitButWhy's Elon Musk posts by Tim Urban
These "posts" (part 1, part 2, part 3 and part 4, though together they feel more like a textbook and read more like a novel) take the reader through the immense level of difficulty of the problems Musk decided to tackle, keeping the reader engaged throughout. In the process, the reader experiences various stages of education, enlightenment, awe, and ambition. This is the only place that details not only Musk the man, but also the depth of each of his achievements in a digestible manner. These posts are a must-read for anyone that professes to be even the least bit fascinated by technology, innovation, or the future.
— Rameez Tase, strategy consultant
After months and months of hearing a ton of chatter about ISIS, I felt like I truly understood the psychology behind the organization after reading Graeme's piece. The story is incredibly well-reported and in-depth, and I was amazed by how much of the ISIS backstory I had no idea about. I was also scared to think how fervent they are in their beliefs. We read and see so much about ISIS, so it's worth taking the time to get some context and learn about the mentality that underpins everything they do.
— James Allen, vice president of communications and strategy
Read all of Mic's year-in-review coverage here.