Steve Harvey Offered Multi-Year Deal to Host Miss Universe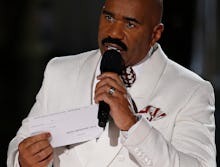 John Locher/AP
Steve Harvey may have the chance to redeem himself for Sunday's Miss Universe fumble. According to Entertainment Tonight, the comedian reportedly signed on to host the pageant for some years to come. The deal would instate Harvey as host for at least three, but possibly even six or seven, years, ET's source said, and it was struck in advance of his crowning the wrong contestant in 2015's Miss Universe broadcast. 
The Miss Universe Organization owner, WME/IMG, "really loves Harvey," according to ET's source, which perhaps explains why they've agreed to pay him "more than they've ever paid before for a host." 
Still, Harvey's gaffe breathed life into a television event that tends to go relatively unnoticed. After Harvey named Miss Colombia, Ariadna Gutiérrez, the newest Miss Universe, then revoked her crown only to give it to the rightful winner — Miss Philippines, Pia Wurtzbach — minutes later, the internet erupted: A YouTube video of the mix-up has since garnered nearly 14 million views and the conversation around #MissUniverse2015 is still going strong on Twitter. Even Miss Colombia is at peace with — or, at least, making the most out of — the outcome, having found her "destiny" in a few twinkling moments of Miss Universe stardom, according to her Instagram.
And, of course, Miss Philippines is feeling pretty thrilled with her new title, if also somewhat guilty. Ditto Harvey. While the ratings for Miss Universe dipped this year, given all the chatter around the pageant since it aired, it seems reasonable to expect that a larger audience will tune in for the 2016 broadcast — especially if Harvey returns as host.
"In light of the attention Harvey's blunder has brought to the pageant, they likely have no qualms about bringing him back," ET reported. All's well that ends well, it seems.