Today Is Festivus: Origin of 'Seinfeld' Holiday and How to Celebrate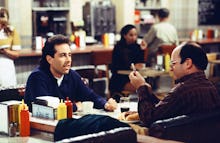 NBC/Getty Images
Festivus, the secular holiday first made popular by a now-iconic episode of Seinfeld, is pretty much a real thing at this point. The episode that introduced Festivus, a "holiday for the rest of us," first aired the week before Christmas in 1997. 
Since its arrival on the national stage, Festivus has gained real-life practitioners, and on Dec. 23 each year, an apparently growing number of people, whether ironically or not, observe the holiday.
How it began: In the Seinfeld episode titled "The Strike," Frank Costanza (Jerry Stiller) said he created the holiday as an alternative to Christmas, which had become simultaneously both too materialistic and too religious. Festivus involves no presents or decorations, the character says, and is celebrated around an unadorned, aluminum pole instead of a tree. Tinsel is forbidden.
Festivus actually predates its appearance on Seinfeld by a few years: It began as a holiday tradition created by Dan O'Keefe, dad to Seinfeld writer Daniel O'Keefe, when his children were growing up in the '60s. As an adult, the younger O'Keefe wrote Festivus into the plot of Seinfeld, launching a quirky family tradition into the big time.
How to celebrate: Instead of carols and glad tidings, Festivus traditions include the "airings of grievances," where everyone present complains about everyone else, and the "feats of strength," in which the head of the family is wrestled to the floor. Only then, once the family patriarch or matriarch is pinned to the ground, can the holiday come to an end.
"It was entirely more peculiar than on the show," Daniel O'Keefe told The New York Times in 2004, adding that, while there was no aluminum pole in the holiday's original incarnation, there were other peculiar traditions like "a clock in a bag." In 2005 O'Keefe published a book about his family's invention of the holiday, called "The Real Festivus."
In recent years, some offscreen celebrations of Festivus, inspired by Seinfeld, have made headlines. In 2013, atheist and free-speech advocate Chaz Stevens successfully campaigned to have a Festivus pole erected at the Florida Capitol building, in protest of the seasonal nativity scene that was also on display in the building.
This year there will be a Festivus pole in the Florida state Capitol for the third year in a row. Stevens was also involved in the placement of "more than a half dozen" Festivus poles that will be placed in state Capitols this year, reports NPR affiliate WABE.
Many others will celebrate Festivus on Wednesday, whether it's as an act of protest, a Seinfeld-inspired joke or a sincere family tradition — and we have the now-classic sitcom, that was famously "about nothing" to thank for it.