Marco Rubio Ad Says He "Killed Obamacare" — Here's How Many People Signed Up This Year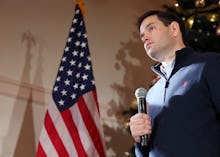 Mary Schwalm/AP
Sen. Marco Rubio (R-Fla.) is billing himself as the Republican presidential candidate who "killed Obamacare," according to the New York Times. The super PAC that's thrown its weight behind Rubio, Conservative Solutions PAC, released its "Some Republicans" ad Tuesday, perpetuating a few misconceptions about the candidate's congressional track among voters in Iowa and New Hampshire, where the Times says the ad is being broadcast.
"On Obamacare, some Republicans gave up," the ad says. "Some talked tough, but got nowhere. For all the Republican talk about dismantling the Affordable Care Act, one Republican presidential hopeful has actually done something: Marco Rubio. Rubio conceived and pushed a plan that will all but kill Obamacare."
Taking its lines out of their original context, the ad flashes "Killed Obamacare" across the bottom of the screen, with an authoritative voiceover: "Results." 
For anyone wondering if maybe they've missed a major policy moment in the last couple of weeks, know this: Obamacare lives. Neither Rubio nor any of his conservative opponents has yet dismantled it, but not for lack of trying.
Did Rubio kill Obamacare? While Rubio claims he is the only Republican candidate to have dealt a blow to the Affordable Care Act — according to the Washington Post, by stealthily inserting a financing provision "that had undermined confidence in Obamacare" into the 2014 end-of-year budget  — but as the Associated Press reported, the credit for this maneuver shouldn't actually go to him. And while Rubio has introduced legislation that would peel away some Obamacare provisions, according to the Washington Post, he has not yet killed the Affordable Care Act. 
The short answer: No. Obamacare continues to provide insurance to Americans nationwide — including, according to NBC, Rubio himself. In 2015's open enrollment period (November 2014 to February 2015), some 11.7 million signed up for Marketplace plans, the Obamacare website estimates, while around 17.6 million people were covered under the ACA as of September. Open enrollment for 2016 opened on Nov. 1 and ends on Jan. 31. As of Dec. 21, upward of 9 million qualified health plans are thought to be confirmed for 2016.