Here Are the Stores That Are Open on Christmas Day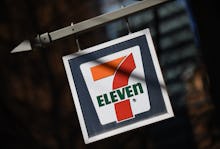 PETER PARKS/Getty Images
As the band Europe sang so eloquently, "It's the final countdown." Christmas is just a blink away and you can blame work or holiday travel all you want, but you're still struggling to get the right gift for those last few people on your list — or maybe you forgot. Whatever it is, it's crunch time.
You're not the only one. About 18% of U.S. consumers admitted that they would go Christmas shopping —  and gift-returning — on the very day if they had the choice, according to a poll by LoyaltyOne. 
Basically everything is open on Christmas Eve, but there's just a few choice retailers for those real procrastinators open on Christmas day. Below is a list of the stores open on Christmas, compiled by GOBankingRates. It may not be the best selection, but maybe you'll have a better game plan for next year. 
7-Eleven
On this day, 7-Eleven truly embodies its quality of convenience. There's probably one right on your route over to Christmas dinner. In fact, 7-Eleven claims that Christmas Day sales are among the largest of the year. 
Family Dollar
You can't ask for more than being budget friendly and open on Christmas. But if you have a guilty conscience over how much everything costs, then maybe this is the perfect spot to curate a gift basket. Stocking stuffers are also in abundance. 
Rite-Aid
This drugstore is open for all your gift buying needs. 
Albertsons
Grab your last-minute gift and contribution to the Christmas potluck dinner at Albertsons from 10 a.m. to 4 p.m. 
CVS 
CVS will be open from 10 a.m. until 8 p.m., according to Saving Advice. 
Walgreens
Walgreens will be open 24/7 on Christmas day for your really last minute gifts, Saving Advice reported.