Grand Jury Indicts Wal-Mart Trucker in Tracy Morgan Crash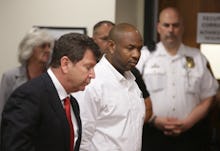 John O'Boyle/AP
On Wednesday, a New Jersey grand jury indicted the truck driver whose truck collided into a limo that comedian Tracy Morgan was a passenger in, leaving Morgan in a coma for eight days, a fellow comedian dead and two others critically injured in 2014, ABC 7 reported.
Kevin Roper faces charges of aggravated manslaughter, vehicular homicide and aggravated assault, according to the report.
A prosecutor told a judge on Tuesday that the jury would announce whether Roper would be charged at all, for vehicular homicide or assault by auto, the Associated Press reported. Roper was driving a Wal-Mart tractor-trailer when he crashed into the limousine.
Roper's lawyer wants the charges dropped, as he said they spawned from the publicity of Morgan's multimillion-dollar lawsuit against Wal-Mart following the crash, ABC 7 reported.
During an investigation of the crash in August, the National Transportation Safety Board discovered that Roper had been awake for 28 hours straight before the crash. Morgan and his fellow passengers weren't wearing seat belts, which the board said after the investigation increased the severity of their injuries. 
Morgan's friend, 62-year-old comedian James McNair, known on stage as Jimmy Mack, died in the crash. Morgan, assistant Jeffrey Millea and comedian Ardie Fuqua Jr. were in critical condition after the accident, and a fifth passenger was treated and released, the Associated Press reported.
Correction: Dec. 23, 2015