The 15 Best 'Saturday Night Live' Skits of 2015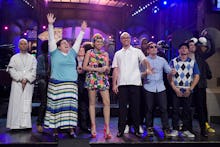 Saturday Night Live celebrated its 40th anniversary this year, and after four decades, the iconic sketch comedy show is still reliably turning out the laughs and launching the careers of up-and-coming comedians. SNL aired its final show of the year last week, which means it's a great time to take a look back and some of the show's funniest and most memorable skits of 2015.
1. Kate McKinnon's spoof of Justin Bieber's Calvin Klein ads
McKinnon managed to look alarmingly like the Biebs in this hilarious take on the singer's infamously Photoshopped ad campaign for Calvin Klein. Highlights include McKinnon as Bieber riding around the studio on a scooter and doing lots of crotch thrusts.
2. SNL takes on Scientology... sort of
Shortly after the release of the HBO documentary, Going Clear: Scientology and the Prison of Belief, SNL came up with this spot-on spoof of '90s Scientology recruiting videos. In this parody video extolling the benefits of joining the "Church of Neurotology," helpful pop-ups explain what happened to all the former "members" of the fake church.
3. Celebrity Jeopardy
As part of the SNL 40th Anniversary Special, Will Ferrell reprised his role as an exasperated Alex Trebek, hosting an episode of Celebrity Jeopardy that goes, as always, off the rails. Highlights include Norm MacDonald returning as Burt Reynolds (aka Turd Ferguson) and Darrell Hammond was, of course, a dirty-minded Sean Connery.
4. McKinnon makes everyone break character and crack up
This is one of those times that SNL turned a questionably funny premise into an outright hilarious sketch. McKinnon played a woman abducted by some incompetent aliens, and managed to make fellow cast member Cecily Strong and guest star Ryan Gosling absolutely lose it. 
5. Sexist Super Bowl ads
This fake commercial for Pizza Rolls nails exactly what's wrong with so many snack-food commercials: The women just show up to deliver food to the dudes, and then disappear. In the SNL version, Vanessa Bayer goes back to the kitchen to complete her "Super Bowl activity pack for women" while the "hungry guys" watch the big game. 
6. Racist Detective Bazer
Taran Killam takes on police racism as Detective Blazer, who runs around randomly punching every black guy he sees and then edits the footage together into a musical montage. Highlights include Keenan Thompson as a man eating dinner in his home who screams "Not again, Blazer," when the detective jumps into his window.
7. Ferrell as George W. Bush returns
Ferrell as George W. Bush returned to SNL to suggest that, compared with the current Republican candidates, he wasn't such a bad option after all. One by one he ripped into all the GOP candidates, including Jeb Bush, and then says "Running the government is kind of like driving a school bus, you don't want a crazy person driving that bus." Good point, fake Bush.
8. Meet Your Second Wife
Tina Fey and Amy Poehler returned to host the show together in December, and skewered the trope of older men and their much-younger second wives. In the fake game show Meet Your Second Wife, regular men are introduced to the little girls who will grow up to be their second wives. A 20-year age difference seems a lot bigger when one of the people is only 13.
9. Larry David's amazing Bernie Sanders impression
David's impression of the Democratic presidential candidate is so good it's kind of unreal. In this SNL cold open, David plays Sanders as a crotchety old man who says stuff like "what's the deal with email?" and "I own one pair of underwear, that's it." Highlights include McKinnon as Hillary Clinton referencing Fetty Wap.
10. Sexism in superhero movies
Scarlett Johansson, who plays the character of Black Widow in the Marvel movie universe, showed up on SNL to take down the industry's sexist treatment of female superheroes (and of Black Widow in particular). This fake movie trailer imagines a Marvel movie about Black Widow, targeted at women, as a classic rom-com, complete with a meet-cute in the park, a swanky job and a break-up montage.
11. Two Hillarys walk into a bar
McKinnon as Clinton meeting the real Clinton as Val the bartender was a pretty unforgettable moment. Clinton was pretty funny as Val, and she managed to sneak in some campaign points as well as a brief Donald Trump impression. Highlights include Hammond popping to be Bill Clinton for a moment.
12. Louis C.K. gets caught in an impression
This sketch begins with Louis C.K. playing an employee on his first day of work at the Sprint store, because why not. When he gets caught impersonating his boss Brenda (SNL's Leslie Jones) he has to pretend that the impression is his real voice. Highlights include Jones almost cracking up and a momentarily serious discussion of code-switching.
13. Panicked flight attendants
The SNL episode Amy Schumer hosted was definitely a season highlight, but this sketch in particular was so bizarrely entertaining that it had to make the cut. Schumer and Bayer play two chipper Delta flight attendants trying hard to make it through a song about in-flight offerings.
14. Tom Brady's balls
Back in January, SNL took on #Deflategate with Killam playing New England Patriots quarterback Tom Brady, who denies any involvement in the controversy and claims he didn't understand how footballs worked. Also, everyone said "balls" a lot in this skit.
15. "Hotline Bling"
Yes, everybody and their mother did a "Hotline Bling" parody this year, and yes, SNL's take on the Drake hit wasn't exactly funny, but it did give us the unforgettable image of Trump dancing and singing. Seriously, try to forget it. You can't.