Teens Allegedly Sexually Molest Girl, Post Video to Facebook For "Likes"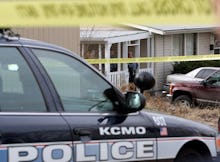 Kansas City Star/Getty Images
Two Missouri high school students are facing potential charges after posting a video of an unconscious girl to Facebook on Saturday, in which one is seen fondling girl's breasts while she's half-naked and unresponsive. According to local news station KCTV, the boys were hoping the video would receive "likes," but quickly deleting the video after it received backlash from mutual friends. 
According to KCTV, a teenage girl who claims to be the victim posted online that she would like to see her attackers prosecuted after meeting with police to review the incident. Charges have yet to be filed in the case. 
According to authorities, it's not either of the boys' first time uploading a recording of sexual abuse to social media — both have allegedly posted videos of themselves harassing intoxicated girls prior to this, according to the Facebook friend who flagged the video to Kansas City's police department.
Detectives who investigate crimes against children and the cyber crime unit are handling the investigation, following a mutual friend of the girl's and two students taking screenshots of the abuse and informing Raytown police on Sunday after it was quickly deleted from the Web, according to KCTV.
The two boys met the girl at a Kansas City poolhouse on Saturday night before heading to a hotel where the sexual molestation allegedly occurred. Police say the incident didn't actually occur within the town of Raytown, though a slew of residents reported the Facebook video to local authorities. 
The Raytown School District released a statement on the incident, which said, "While we cannot control choices made by students outside school hours, we will cooperate to assist police in any way we can."