Rapper Ludacris Gives Out Presents at Children's Hospital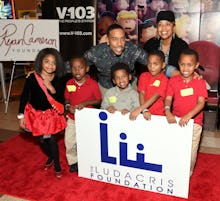 Prince Williams/Getty Images
Ludacris is spreading holiday cheer once again at the Children's Healthcare of Atlanta, stopping by as part of an annual tradition in which the 38-year-old rapper brings gifts and puts on an event in partnership with his foundation. The Ludacris Foundation has been working with Atlanta children's hospital for years and was founded by the Grammy award-winning rapper in 2001.
"Back at the Childrens Hospital Atlanta GA like I do about this time every year giving out gifts and visiting the kids!" Ludacris captioned one photo on his Instagram from the hospital on Tuesday. "Making their day makes my day," he wrote on another. 
Check out photos from Ludacris' trip to the Children's Healthcare hospital in Atlanta below:
Ludacris has become quite the family man, as well as an activist in Atlanta. His foundation also sponsored the The Peanuts Movie premiere in Atlanta in November; Ludacris took time to pose for photos with children going to see the latest edition to the Charlie Brown franchise. 
"To all the parents my heart and prayers are with you," Ludacris wrote Tuesday on Instagram. "To all the children I admire your strength and perseverance."