New York's Governor Just Put an End to One of the Worst Prison Practices in America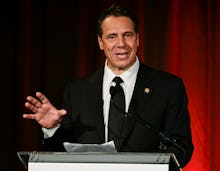 Pregnant women shouldn't be in shackles.
That's now the law of the land in New York, where Democratic Gov. Andrew Cuomo signed a law Tuesday that prohibits restraining incarcerated women during and eight weeks after transport while pregnant.
Currently the state has a ban on shackling pregnant women immediately before and during the act of childbirth, but there are still plenty of scenarios like doctor's appointments and facility transfers in which pregnant women are forced to endure handcuffs, waist chains, and ankle restraints, according to the Huffington Post. That will no longer be the case.
"These common sense reforms strike the right balance that protect the health and dignity of a pregnant inmate, while also addressing public safety concerns," Cuomo said in a statement. "This legislation has made New York's criminal justice system fairer and stronger and I thank the sponsors and advocates who worked so hard to get it passed."
Forcing women to be shackled during a particularly physically vulnerable stage in their life is not only gratuitously invasive — it's also bad for their health.
Shackling pregnant women "heightens the risk of blood clots, limits the mobility needed for a safe pregnancy and delivery, and increases the risk of falling, which can possibly cause a miscarriage," the governor's office said.
The new law, which does allow for exceptions for the restraint ban "in the most extraordinary of circumstances," also bars correctional staff from the delivery room unless medical staff or the inmate calls for it.
Some experts say it's the most progressive law of it's kind.
"With this law, New York State takes a critical step forward in protecting the health, safety and human rights of women," Tamar Kraft-Stolar, co-director of the Women and Justice Project and former director of the Correctional Association of New York's Women in Prison Project, said in a release. "As the most progressive of its kind to date, this law can contribute to reform nation-wide and help spur recognition of the need to end mass incarceration of women and all people."
It's unfortunate that not putting pregnant women in handcuffs while at doctor's appointments is considered a major coup in 2015, but, given how bad the problem is across the country, it's a significant step forward. 
h/t Huffington Post