Gigi Hadid Has Something to Say About the Cultural Appropriation Debate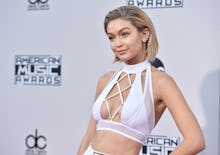 On Tuesday night, model Gigi Hadid did a very Gigi Hadid thing: She hung out with some of her friends, talked for hours, gushed (we assume) about her maybe-boyfriend Zayn Malik and had herself a little henna party. And like any other 20-year-old girl, she posted about her "best night" on Instagram. 
Unlike other non-famous girls, though, she took a moment to remind her followers of one important thing. 
Under the picture of her friends hands covered in artful henna designs, she commented: 
"Before you go all 'cultural appropriation' in my comments, check out my last name. Hadid. Half Palestinian & proud of it."
Hadid's statement comes at a time when the so-called "cultural appropriation police" has become a vocal, debated phenomenon. Criticism and backlash over cultural theft are becoming commonplace on college campuses, the latest being a debate at Oberlin College over offensively bad multicultural cooking. 
Online, cultural appropriation debates often center around celebrities: When a famous person who looks white seem to borrow or steal a tradition from a culture that's not their own, fans and media outlets alike (including this one) are inclined to call them out. 
Hadid is well aware of the pattern; in fact, some of her closest friends have been called out for cultural appropriation. 
Hadid's BFF Kendall Jenner was slammed in August after she was photographed wearing cornrows, while fellow model pal Karlie Kloss was at the center of a media storm when she wore a Native American headdress at the Victoria's Secret Fashion Show in 2012. Another member of the model's squad, Taylor Swift, was called out in 2014 for arguably appropriating black women's bodies in her "Shake It Off" music video. Then there's Kylie Jenner, someone who's been called out for cultural appropriation over and over again for cornrows and more.
As for henna, it's a tradition often associated with India; but the "tattoo" art is actually found in many Middle Eastern and Southeast Asian cultures, including Palestinian and Moroccan communities. It's also been the occasional subject of cultural appropriation debates, like when Rihanna and Ariana Grande showed off their henna tattoos. 
These days, young stars like Amandla Stenberg, Zendaya and Rowan Blanchard are getting into the cultural conversation on their own, discerning appropriation from appreciation and engaging in a nuanced dialogue with media and fans.
In calling out her Palestinian heritage, Hadid is acknowledging that she, too, is at least aware of the debates — and aware of how many eyes are on famous people's photos like hers.