Iowa Caucus: Latest Projections for Democratic and Republican Presidential Candidates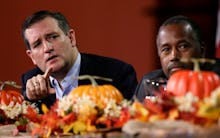 Charlie Neibergall/AP
The presidential primaries are looming, with fewer than six weeks to go until the first big show: Iowa. Here's how the candidates are polling in the lead-up to the Iowa caucus.
Sen. Ted Cruz (R-Texas) is up 4 percentage points in Iowa: The latest polling data from Real Clear Politics (Dec. 14 to Dec. 17) puts him in the lead with 30.2% at the polls. Donald Trump comes in second, at 26.2%, followed by Marco Rubio (12.3%), Ben Carson (10%), Jeb Bush (5.2%), Rand Paul (3%), Carly Fiorina (2.3%), Mike Huckabee (2%), Chris Christie (2%), John Kasich (1.3%), Rick Santorum (.7%), George Pataki (.2%) and Lindsey Graham (.2%).
The Iowa caucus is traditionally the first primary of the season, and along with New Hampshire's primary, considered to be the most important. It takes place Feb. 1; candidates still have some time to boost their polling numbers. Huckabee, for one, is undeterred by his low standing, and is moving in for the win — literally.
"People are acting like this is settled — it's far from settled," Huckabee told voters at the Iowa Veterans Home, according to the Des Moines Register. "We're going to live in Iowa all during January. I will not see my house at all ... except for one or two days." 
As far as the Democrats go, Hillary Clinton is the frontrunner in Iowa, up by 14.9 percentage points, according to  Real Clear Politics. She's polling at 51.7%, Bernie Sanders stands at 36.8% and Martin O'Malley at 5%.
According to the Hill, both Clinton and Sanders would be well ahead of Trump in a general election, who is the national frontrunner for the Republican candidacy. The Hill cites Monday's Quinnipiac University poll in which Sanders, at 51%, registered a 13-point lead on Trump, who came in at 38%. Quinnipiac put Hillary at 44% against Trump, so, behind Sanders. The point being that the candidates' status can vary, depending on the poll.