Charlie Sheen Says HIV "Picked the Wrong Guy," Vows to "Change the World"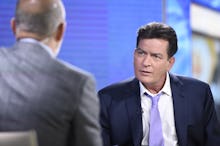 Peter Kramer/AP
Charlie Sheen is taking on his HIV-positive diagnosis in typical Sheen fashion, vowing to defeat the disease while changing the world in the process. After revealing to Matt Lauer on the Today show in November he has been diagnosed as HIV positive for some time now, Sheen is back with a tell-all interview in the National Enquirer, published Wednesday.
The former Two and a Half Men star told the Enquirer's Dylan Howard he initially felt a moment of anger after receiving the diagnosis, saying he not only felt mad at himself, but the world. However, Sheen said the frustration quickly dissipated, and his grief was turned into action. 
"It was shortly afterward — I think it was the second day — I said to my mom, 'This disease picked the wrong guy,'" Sheen told National Enquirer. "If anybody can fight this thing and discover a cure, it's me. I will exhaust every resource available to me. I will sit with every expert. I will move forward until something's revealed."
Sheen described receiving the news he was HIV-positive as "a bad dream" he imagined himself waking up from. He told Howard he and his mother found out at the same time, then waited nearly a month before telling his father. "Ultimately, everyone's come to a place of love and support and helping me stay and get healthier," he told the Enquirer.
As for how the actor is feeling nowadays? "Sober, focused, hopeful, vigilant and, um, poetic!" he told Howard. Read more about Sheen's treatment and plans for the future here.