Florida Woman Barbara Dawson Dies After Police Removed Her From Hospital in Handcuffs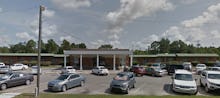 Google Maps
A woman died Tuesday after being forcibly removed from a hospital in Blountstown, Florida, when she allegedly refused to leave upon being discharged. Barbara Dawson, 57, went to the hospital for breathing troubles, NBC News reported. 
Police escorted Dawson from Liberty Calhoun Hospital when she allegedly refused to leave after being discharged by the doctors. Dawson collapsed when she arrived at the police car, officials told NBC, and was re-admitted to the hospital and pronounced dead an hour later. A medical examiner confirmed after an autopsy Wednesday that Dawson died of a blood clot in her lungs.
"Our officer asked for help once he realized the patient did indeed appear to be unresponsive and had medical staff respond to Ms. Dawson," Blountstown police Chief Mark Mallory said in a statement Tuesday, according to NBC. Dawson had been arrested for "disorderly conduct and trespassing," Mallory told the Associated Press. 
"We were told by a doctor once she got back in the hospital that her vital signs were good and it was their decision to re-admit her," Mallory said, according to the Associated Press. 
Tallahassee attorney Daryl Parks told the Associated Press Tuesday that while the doctors believed it was safe to release Dawson, she insisted on staying because she was still having trouble breathing. 
NAACP Florida regional vice president Dale R. Landry met with local officials and the family after the incident. Landry told the Associated Press he and others "strongly believe the death was due to negligence by the police department and hospital."
"The most reasonable thing to do is to let her sit there and be able to settle down until she felt well. Instead, she is forcibly removed and put in cuffs," Parks told the Associated Press. "The early facts of this case should cause a great concern for everyone."