The Annual Kardashian Christmas Card Features a Ton of Cuteness but No Kardashians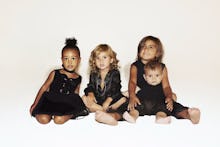 Kim Kardashian West shared her family's annual Christmas card — and it's the definition of precious but includes no Kardashians. The card, which West shared on her website Wednesday, features her and Kanye West's daughter North and her cousins, Kourtney Kardashian and Scott Disick's children Mason, Reign and Penelope, all looking cute as dumplings in swoon-worthy miniature black velvet and silk outfits.
The photograph is accompanied with the short and sentiment "all you need is love," because love is all we need — along with this iconic card framed to admire for all eternity. 
West posted a tweet of the photo that instantly went viral because, well, look.
In what may be the spirit of the holidays, the Wests reportedly donated 1,000 pairs of shoes to nonprofit organization Soles4Souls — and not just any shoes, Adidas and the family's Kardashian Kollection shoes. "The quantity and quality of the Adidas and Kardashian Kollection donation from Kanye and Kim Kardashian West is really extraordinary," said president and CEO Buddy Teaster.