This Porn Actor Is Hilariously Calling Out Guys Who Send Her Creepy, Slut-Shaming DMs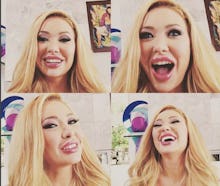 Summer Brielle is an adult film starlet, which means she has sex with people on camera for a living. But she wants people to know that just because she does sex work, that doesn't mean she deserves to have douchebags sliding into her DMs with creepy dick pics and abusive, slut-shaming messages. 
And she's not afraid to share her epic (and often hilarious) clapbacks with her over 612,000 Instagram followers.
For instance, when one user sent her an unsolicited dick pic (because dudes feel like that's an OK thing to do, for some reason?), she responded with a scathing critique of his member. "It's literally so short your foreskin swallows up the end," Brielle wrote. "Even your foreskin doesn't want anyone to have to look at it."
Oh, snap!
She told another guy that his dick pic looked like the Loch Ness Monster, "except in miniature."
Dick pics aren't the only form of harassment Brielle has highlighted on her Insta grid. She also has a remarkably positive attitude toward users' insulting, hate-fueled messages, which often attack her for her profession. Brielle responds to such harassment with an impressively DGAF brand of smarts and sass.
In a perfect world, Brielle wouldn't be subject to so much online harassment. (Mic has reached out to her for further comment and will update if we hear back.) But alas, this is the internet and humans are garbage. 
Sex workers in particular are often the targets of extreme online harassment, as demonstrated by a clip from Woodrocket.com's "Ask A Porn Star" series earlier this year, in which a number of performers read the staggering amounts of hate mail they receive with on a regular basis. 
"I had one guy that sent me a 12-paragraph email about how much he hates me because I wouldn't, like, acknowledge him," adult performer Violet Monroe said in the disturbing video. "That was pretty creepy. It was like serial killer stuff."
Yet to a large degree, the messages Brielle receives on a daily basis aren't specific to those who work in her profession. Online harassment and men sending unsolicited dick pics are a problem for women both in and outside of porn, as documented by Instagram accounts like Bye Felipe. In fact, according to one Pew Research Center survey, 25% of women between the ages of 18 and 24 reported experiencing online sexual harassment. 
While there's nothing remotely funny about the issue of gendered sexual harassment, it's nonetheless refreshing to see Brielle handle being slut-shamed by turning the tables on her harassers and hilariously shutting them down. Clearly, when it comes to creepers sliding into her DMs, Summer Brielle has few fucks left to give. 
h/t Playboy