NORAD Santa Tracker: How to Track Santa Claus on Your Smartphone, Computer or Tablet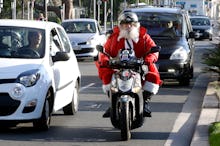 Lionel Cironneau/AP
As tradition goes, kids will be tucked away in their beds on Christmas Eve long before Santa Claus comes traveling down the chimney to bestow presents for all who found their way onto the "nice" list in 2015. However, thanks to advancements in global positioning services and technology in general, those kids will likely be plugged into a phone, tablet or other device, tracking Santa Claus' every move as he travels across the globe.
The North American Aerospace Defense Command Santa tracker is still one of the most popular North Pole tracking systems on the web, though huge websites, like Google, are beginning to come up with their very own. As countless kids flock to the government organization's Santa tracking site, they'll find where Mr. Claus was last seen, where he's headed next and how many gifts have been dropped off since. 
At the time of publication, old Saint Nick was last seen in Palikir, the Federated States of Micronesia. His eight reindeer were flying the sleigh across the ocean and headed for Yakutsk, Russia. He had also delivered 555,930,400 gifts, a number that will likely double before Christmas Eve afternoon.
As Mic previously reported, the NORAD tracker has an official app available in the App Store, as well as Facebook, Twitter and YouTube pages. Check out the NORAD Santa tracker here.