Black Twitter Reminded Us of the #BestBlackBlackAlbumCovers That Changed Music History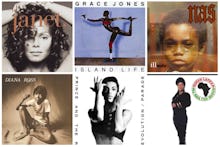 "What's your favorite album?" might be a good first-date question. Everyone loves to talk about music. But a question like "What's your favorite album cover?" usually means something a little different. It's an image so burned into someone's head that it produces the sound of their favorite album.
On Wednesday night, people on Twitter shared their favorite album covers by black artists with the hashtag #BestBlackAlbumCovers. 
The tweets ranged from older covers by classic artists to covers released in 2015. 
Some of the older entries included Louis Armstrong's compilation album C'est si bon (1991), Isaac Hayes' Black Moses (1971), Diana Ross' eponymous debut (1970) and various album covers from 1970s disco queen Donna Summer. 
The 1980s had quite a few entries, as well, including Grace Jones' Island Life (1985), De La Soul's 3 Feet High and Rising (1989) and Prince's Parade (1986). 
Several classic hip-hop albums came up, as well. Queen Latifah's All Hail the Queen (1989), Outkast's ATLiens (1996), Common's One Day It'll All Make Sense (1997), Kanye West's The College Dropout (2004), Nas' Illmatic (1994) and Nas' 2008 untitled album all received mentions. 
One person definitely dominated the night: Janet Jackson. Her albums Control (1986), Janet. (1993) and The Velvet Rope (1997) all got multiple mentions. 
At least one album cover trend — "the lean" — got a shoutout. 
People also tried to predict what would be the next classic black album cover. The best guess may have been Kendrick Lamar's To Pimp a Butterfly (2015).