A Migrant Who Nearly Died on His Journey Just Won €400,000 After Living on Barely €5 a Day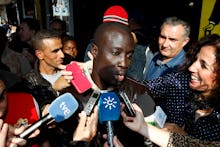 It's just the kind of story you'd want to hear around Christmastime. 
A Senegalese migrant named Nguema Ngagne, who has lived in Spain for eight years, won 400,000 euros (roughly $438,000) in this year's El Gordo ("the fat one") lottery, the BBC reported.
Ngagne lives in the town of Roquetas de Mar in Andalucía; came to the country on an overcrowded, ramshackle ship with dozens of others; and told reporters he had recently lost his job.
"I want to give thanks to Spaniards and the Spanish government for rescuing me when I was in the sea," he told local radio station Onda Cero, according to the Telegraph. "I can't believe this. I can tell you that at times we didn't earn five euros between us a day ... [Ngagne's former boss] said we had to work things out for ourselves."
This year's El Gordo lottery ruling involved $2.45 billion in prizes, with the maximum drawing being about $496 million. Ngagne was one of many entrants who bought a cheaper, 20-euro ticket with a lower payout, according to the Telegraph. Altogether, a staggering 24 million people win prizes each year, with 1,000 winning the maximum amount.
The Spanish government created a program to allow hundreds of Senegalese migrants to come to the country and earn legal wages on one-year, renewable work permits in 2007, according to the New York Times.
About 35 African migrants won prizes in El Gordo this year, meaning Ngagne is not the only person with a similar story to suddenly find themselves in good fortune.
Watch Ngagne describe the win in the video below:
Correction: Dec. 24, 2015