#BeatlesOnSpotify: Fans React to Beatles Music Début on Spotify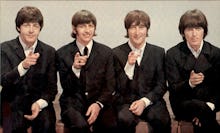 Chris Walter/Getty Images
Who needs Taylor Swift when the Beatles are on Spotify? Music from the world's most famous band of all time became available to stream on Spotify for free and paid users alike on Christmas Eve, bringing Twitter users together in a joyous/merry/happy celebration. 
The Beatles' full catalog of music is available to stream on Spotify and most other streaming services including Apple Music, Google Play, Tidal and Amazon's Prime Music. In what may be the most epic list of "popular songs" on an artist's Spotify page, users will find "Let it Be," "Here Comes the Sun," "Hey Jude," "Twist and Shout" and "Come Together" to get them hooked on the band's Spotify profile. 
In what may be Spotify's most epic marketing tactic yet, when users tweet #BeatlesOnSpotify, it unlocks an emoji of the band's famous Abbey Road cover art with the streaming service's bright green color as the backdrop. The Beatles currently have 1.1 million followers on their Spotify page, according to Vocativ. 
Beatles fans are basically convulsing at the news on Twitter:
User @uhmanderrz has waited her whole life for this, though Spotify has only existed for seven years.
Who cares about what's under the tree when the Beatles are on your screen?
This guy is easy to please. 
Nice play on Beatles lyrics there, Shaun. Let it stream.
You too, Chandrasekhar.
Take that Swift and Adele.
Good one.
Sleep < streaming the Beatles on Spotify.
Billboard reported Friday that the Beatles would start streaming on Christmas Eve, and thank the music gods Billboard was right. Music journalist Eamonn Forde wrote for the Guardian that "it was never a matter of 'if' with the Beatles and streaming but rather 'when' and 'how much?'" Well, the answer is now and free. With CD and download sales on the decline and Spotify's 100 million users, it's about time.