13 Things to Leave Behind in 2015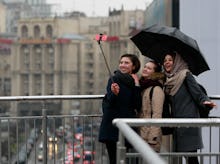 Sergei Chuzavkov/AP
Like every other year, 2015 had its ups and downs in consumer and pop culture. And while some truly significant events occurred this past year, there were also some things — slang, songs, movies and more— that we would really like to forget before the new year. Let's just move on, shall we?
1. Selfie sticks
With the upward trend of selfies and social media interaction, we probably should have seen this trend coming from miles away. Disney parks, the Sistine Chapel and the Metropolitan Museum of Art and some music festivals banned the use of selfie sticks. 
2. Hoverboards
Perhaps one of the hottest tech toys of 2015 was the futuristic hoverboard. Unfortunately, the toy has a scary tendency to burst into flames. Several airlines and even New York City banned the toy.
3. "Netflix and chill"
Online streaming truly deteriorated dating this year, with the transparent phrase "Netflix and chill," which is synonymous with going over to someone's place to "watch" Netflix, wink wink. It got so bad, in fact, that Netflix itself is working on a product called the Switch that dims lights, orders food and turns on Netflix with one flick of a switch. There's also Netflix and chill-designed condoms, according to Metro. Now, who thought romance was dead?
4. "Bae"
Bae started in 2014, when Pharrell Williams and Miley Cyrus validated the just barely shortened version of "babe" with their song "Come Get it Bae." The phrase was so popular in 2015 that some companies tried using it to tap into younger audiences. Talk about cringeworthy. 
5. Kylie Jenner's lips
For whatever reason, Kylie Jenner's lips, which she admitted are enhanced with fillers, went dangerously viral — like literally dangerous. The internet blew up with teens trying to mimic her pout with the #KylieJennerChallenge by painfully sucking them with shot glasses. The fascination should end as we enter the new year, since it promotes a fetishizing of black bodies. 
6. The dress
The internet went wild back in February, when someone posted a dress on Tumblr asking if the dress was white and gold or blue and black. Even celeb couples like Kim and Kanye joined in the raging debate. It was a viral sensation, making multiple traffic records for Buzzfeed, and it became the fifth most popular meme on Tumblr for the year, Tumblr reported.
7. "Watch Me (Whip/Nae Nae)"
Silento's song "Watch Me (Whip/Nae Nae)," accompanied by a dance, started on Instagram before becoming a gold-selling single, according to BET. Even Jimmy Fallon and the ladies from Fuller House were caught doing the Nae Nae.
Another viral dance video that can be left in 2015 was the "Hit the Quan," made by iLoveMemphis. The 22-year-old was inspired by Rich Homie Quan's notable dance move, FADER reported. The song broke the Top 20 on Billboard's Top 100, and became a viral dance hit, with stars like Kendrick Lamar hitting the quan, FADER reported. 
8. Waist training
Combine fitness and hacks and what do you get? Waist training, unfortunately. Over the course of the year, celebs like the Kardashian sisters and Lindsay Lohan posted photos of themselves wearing the corset-like garments. Unfortunately, experts say that other than squeezing your ribs and lungs, it doesn't really reduce or shift your body mass, according to Marie Claire.
9. Viral proposal videos
Grand gestures went 21st century with promposals and video proposals, because nothing is more romantic than a public YouTube video. People got really creative, directing trailer-esque videos and having choreographed moves, earning whopping amounts of views. This New Jersey couples' music video-like proposal video, which was posted in May, has more than 10 million views as of Dec. 24.
For the younger crowd, #promposals took the digital stage. Teens across the internet logged on to woo their potential date into saying yes. 
10. Pumpkin spice 
The flavor of 2015 might as well be pumpkin spice. While the signature Starbucks latte is nothing new, the trend really hit its peak this year. Sales of pumpkin products grew by 79% over the past five years, according to BBC. The seasonal flavor made its way into sausage, cat litter, Oreos and even hair.
11. #Goals
Blame social media, but everyone decided to surface the internet with their #relationshipgoals, #fitnessgoals, #lifegoals and more this year. The #goals trend needlessly glorifies the celebs and other influential people it is most often hashtagged with, according to Elle. 
12. Man buns
This year, the hairstyle to sweep the heads of many men was the man bun. Then things took a turn for the worse. People went running around snipping off random man buns and dogs began to don the 'do. But perhaps the breaking point was when some stores brought in clip-on man buns. 
13. Lists telling people what they should and shouldn't do
This was the year of lists telling us how to live our lives, created by people over the internet. In 2016, don't listen to internet writers who tell you what to do and what to like!