'Star Wars' Christmas Light Show Is a Must See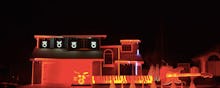 The family reindeer decorations in the front yard are no match to the force of one California house this Christmas. A clear Star Wars aficionado named Tom decorated his new home with a pixelated light show, which syncs with the franchise's theme music by John Williams. A video of the house was uploaded to YouTube on Saturday, just in time for the holidays and shortly after the release of Star Wars: The Force Awakens.
Surprisingly, his next-door neighbors seem to enjoy the light show, according to Tom. "A big shout out to the best neighborhood ever (I'm actually using my neighbors' lawn if you haven't noticed)," he wrote in the video's description. "They are all wonderful people and I'm glad to be a part of the community. I am careful not to hit any windows the lights, of course, and only run the show Fri-Sun from 6-9 (6-8 on Sundays)."
The Star Wars fan also invited anyone in the Tracy, California, area to stop by and watch the light show, and defended his somewhat excessive display of lights, which he seems to do each year. According to his YouTube post, he sets up a donation box near the light show during the performances for visitors to donate to the local McHenry House for the Homeless.
"I find it funny that people say things like, 'what does this have to do with Christmas?'" he wrote. "In all reality, what do any of our traditions have to really do with Christmas? There were no lights or even a tree to decorate when Jesus was born. I do this because it brings families together to enjoy something for free while raising thousands of dollars for those who are need. Jesus said, 'if you love me, obey my commands.' He told us to help those in need — and that's why I do it and that's what I think Christmas is really about."