The Book Is Risen! Publishers Say Physical Book Sales Are Back on the Rise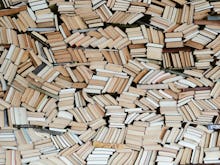 This Christmas, the best gift to get your loved ones might be a book — an actual one with pages made from dead trees.
Long considered doomed, the physical book has been making a comeback in recent years with sales surging in 2014 and continuing to increase at a more modest pace this year. According to raw data from Nielsen BookScan, Quartz reported, 501 million books were sold in 2013, a number that grew to 559 million for 2014, and 2015 now stands at 571 million.
The news bucks the anticipated belief that bound books would soon fall out of favor with the rise of electronic alternatives. At least one industry expert said he was not surprised by the numbers.
"A lot of people a few years ago got new devices, so like anything that's new and exciting you lean toward that for a period of time," Brent Lewis, executive vice president for North American marketing at Harlequin, told the Associated Press. "And that shine has worn off a little bit. Some people have reverted back a bit to paper."
Other insiders in the AP story suggested that surging sales for children's books, books promoted by popular YouTube stars and "historic" books, like Harper Lee's Go Set a Watchman, were items consumers preferred in physical form.
Coupled with surging book sales, e-readers have seen a corresponding and precipitous drop. In 2014, Penguin Random House and Simon & Schuster shaved 8.8% of profits from their margins in a loss widely attributed to disappointing sales of e-reader books.
The sales numbers come amid a growing body of evidence that reading real books brings with it a number of surprising benefits. Studies have found that sticking with the old leather-bounds can improve a reader's memory and concentration and make you a more empathetic person. Other evidence suggests that picking up a real, live book can also boost one's attractiveness. (Anyone questioning that last point should refer to Instagram account Hot Dudes Reading, or Tumblr's Hot Girls Reading Books).
"It's a more personal connection when I read a book over the electronic," Angela Groth, the director of the Ardsley, New York, Public Library, told Mic, who also reported that from her point of view, there was never a contest. "From what I've seen and experienced, they're still going after the books."
It remains to be seen whether America's youth will take to an existence with one fewer touch screen, not to mention how they will cope with the concept of the paper cut.