White House Releases "Holidays with the Obamas" Christmas Playlist — Listen Here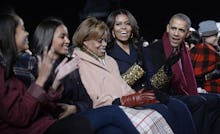 Pool/Getty Images
If you're searching for the perfect Christmas playlist, search no further: President Barack Obama and Vice President Joe Biden have both made Spotify playlists of their family's favorite songs for getting into the holiday spirit, and they're both available to stream now. 
"Holidays With the Obamas" features an eclectic collection of 14 Christmas songs, including traditional songs like "O Tannenbaum" and, of course, the obligatory "All I Want for Christmas Is You" by Mariah Carey, which Obama definitely sings along to with his toothbrush in the mirror on Christmas morning. 
Biden's playlist is a bit more progressive, including artists like Bruce Springsteen, Neil Diamond, Mary J. Blige and Coldplay. The playlists can be found on the White House Spotify profile and have distinct, but equally epic, Christmas vibes. 
Stream "Holidays With the Obamas" and "Holidays with the Bidens" below: