This Teenager Just Won $50,000 for Inventing a Mug That Can Power Your Phone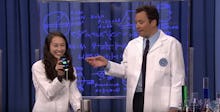 Kids these days! Always playing their video games and texting their friends and... inventing objects that create electricity through heat. 
Ann Makosinski isn't an ordinary teenager. The 18-year-old Canadian won Shell Canada's Quest Climate Grant's $50,000 prize for creating two inventions that use heat to generate electricity. Her first invention was a flashlight that runs off your body heat, for which she won a prize at Google's 2013 Science Fair and was named one of Time's "30 People Under 30 Changing the World" that year. Now, she's at it again with the eDrink.
She got the idea for the eDrink by trying to solve two big problems she saw fellow teens grappling with: Their phones didn't have enough battery and their coffee took too long to cool down, Makosinski told Jimmy Fallon in an appearance on The Tonight Show. The eDrink mug uses excess heat from your beverage to generate electricity. 
The mug has a USB port at the bottom, where you can plug in your smartphone or music player. 
"The amount of support and feedback I've gotten the past week on my latest invention (still in prototype form, be kind!) has been overwhelming, Makosinski wrote Wednesday in an Instagram post. "Thank you for all your support."
Makosinski also announced Wednesday that she will be speaking at TEDxTeen in January:
"What I kind of want to spread as my message to all kinds of youth that I get to reach out to is, you can do cool stuff, you've just got to put in time and be dedicated," Makosinski told CBC News.