NFL Players and Their Families Can See 'Concussion' for Free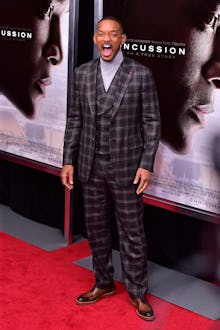 James Devaney/Getty Images
NFL players are being given a holiday gift from Sony Pictures Entertainment, the studio behind Concussion, which hits theaters on Christmas. Professional football players in the league, both former and current, will be allowed free entry into theaters, along with their families, to see the film about brain trauma caused by sports, and the toll it's taken on American football players. 
The studio also offered a series of free film screenings to players before the release date. "This is a movie for the players, so we wanted to give them a chance to see it before its nationwide release and free admission during its run in theaters," producers Ridley and Giannina Scott told the Hollywood Reporter. "The movie is so inspiring — Will Smith gives one of the best performances of his career as Dr. Bennet Omalu, a man who shined a light on the truth. The odds were stacked against him, but he had the truth on his side, and now his discovery is all anyone's talking about. We think the players will enjoy watching this movie about Dr. Omalu's incredible courage — courage that changed the game."
Concussion is based on the work of forensic neuropathologist Dr. Bennet Omalu, played by Will Smith, who made groundbreaking discoveries in researching chronic traumatic encephalopathies (CTE), the traumatic brain injury which can occur during high-impact sports.
Initially, the doctor's findings were rejected by the national league, which the film covers. "This is not a movie that is intended to take down the NFL or destroy football," said Concussion director Peter Landesman. Rather, it's "more as a whistle-blower story, rather than a condemnation of football or the league."
One NFL player named Darrelle Revis, who plays cornerback for the New York Jets, has already seen Concussion and says it's certainly a relatable movie for players like him. Revis told Complex the film "hits home pretty hard [and] it makes you think about other things."