Christmas Eve Temperatures Breaking Records Across US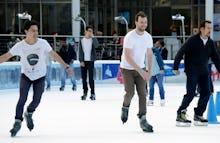 Mark Lennihan/AP
If you haven't noticed already, there's no shot in hell of a white Christmas on the East Coast this year. There's not even a shot in hell of a cold Christmas, or even a slight Christmas chill: The forecast in New York City on Christmas Eve is breaking record highs in the low 70s, only a few degrees colder than it was on the Fourth of July.
The forecasted high temperature for New York City on Christmas Eve is 72 degrees, according to the Weather Channel — only three degrees lower than it was in the city on the Fourth of July, according to Accuweather temperature records. 
Meteorologist Jacob Wycoff tweeted Thursday that Central Park was 70 degrees at 8 a.m. 
Not only is Thursday's forecast hotter than Independence Day, it's the hottest on record for much of the Eastern United States. Most of the East Coast, from Florida to New England, is experiencing record high temperatures on Christmas Eve, the Washington Post reported, hitting 30 to 40 degrees above average in some regions. Even some of the low temperatures break record high temperatures.
Boston, New York City, Boston and Buffalo are some of the major cities with record-breaking forecasts for Christmas Eve, according to the Post, and Washington, D.C.'s forecast is expected to break records for both Christmas Eve and Christmas Day. 
The forecast temperatures for Christmas morning, according to the Weather Channel, are also expected to be record breaking — not as hot as Christmas Eve, but still considerable above average with highs in the 60s in New York City. The iPhone forecast, powered by the Weather Channel, doesn't show temperatures cooling down until Monday, when the high will still be at least 10 degrees above freezing.
Founder of the New York Metro Weather John Homenuk told Mic on Dec. 14 that the record highs we've been experiencing in December are an effect of a strong El Niño combined with the stratospheric, or polar, vortex, rather than global warming. "This particular event has almost nothing to do with [climate change]," Homenuk said. "It has almost everything to do with El Niño and the stratospheric vortex. In fact, I don't think this can be traced back to climate change at all — this is textbook El Niño."
We're experiencing one of the strongest El Niños on record, according to Homenuk, a weather force in the Eastern Pacific ocean that warms ocean temperature that affects weather globally. While the polar vortex usually brings cold weather to the United States by now, El Niño is keeping it locked up in the North and South Poles. 
"In order for cold air from the poles to get down to our area you need the vortex to be disrupted. If it's one solid entity, it won't go anywhere. Right now, all of the cold air is really bottled up near the poles," Homenuk said.