Alaska Likely to Be the First State With Open Marijuana Cafes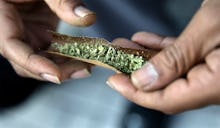 Mel Evans/AP
Alaskan tokers will be the first in the nation to legally light up their joints while relaxing in a cafe, just like in Amsterdam. NPR reported that the Last Frontier legalized on-site consumption of marijuana; shops will likely open up as soon as the summer months roll in — and when each municipality in the state votes as to whether they'll allow the new measure to take place in their jurisdiction.
The move could bring not only an explosion of income to local governments provided by regulatory taxes, as seen in Colorado, but a wave of tourism as well, as NPR reported nearly a million visitors explore Alaska's Inside Passage on cruise ships each year.
The grass truly is greener on the other side, even in Alaska. 
However, local authorities say the new lax stance on consuming marijuana inside of cannabis shops isn't to try and make the state more money. "I am not thinking, 'Oh, goody, goody, we're going to get rich because of pot.' That is not in my thought process at all," Juneau Mayor Mary Becker told NPR. "I have grandchildren and I've taught school and I want to see these young people have good jobs. They can't even get a job in the mine if they test with a drug in their system."
"I mean, I'd rather people didn't put their calories in their bodies with edibles of drugs," she continued. "But it does not damage the smoking ordinance and that's been one of my real concerns."
h/t NPR