This Couple Did an Epic Christmas Photo Shoot With Their Dogs at the Kids' Table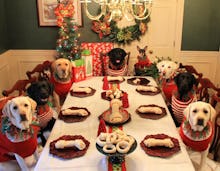 The holiday season is a time to sit around the table, share old memories and eat too much game bird with friends and family. But for some of us, our family members might not be around during Christmas; in fact, they might not even be human. 
Kelly and Zach Furr, a couple from Versailles, Kentucky, wanted to show off their dogs' Yuletide holiday spirit. So the Furrs (yes, that's their real name) sent local TV station WLEX a photo of their house's Christmas dinner "kids' table," which featured adorable puppies in Christmas sweaters instead of humans. 
The Furrs aren't the only couple to swap out IRL hoomans in their Christmas photos for pets. Photographer Peter Thorpe's Christmas card photos of his dog Raggle dressed as various animals went viral back in 2014, and redditor tamagothecat's semi-sacrilegious Christmas card photos of his Scottish Fold cat dressed as baby Jesus went viral earlier this month. 
Inspired by the Furrs' example, other pet owners posted photos of their own pets showing off their holiday spirit on the WLEX Facebook page:
While the Christmas card images are adorable, other couples' photos with their fur babies have come with an important message. In August, for instance, Australian couple Matt Lee and Abby Kay teamed up for a photo shoot with their Goldendoodle, Humphrey, in response to people's incessant questions about why they haven't had kids yet. 
"We have goals we would like to achieve before having children, and we couldn't be more happy with Humphrey," Abby told Refinery29 at the time. 
And with adorable puppies in Christmas sweaters gathered around the table, we're sure the Furrs felt exactly the same way.  
h/t BuzzFeed