NASA News: Here's a Photo of Christmas Pluto, and More Holidays Greetings From Space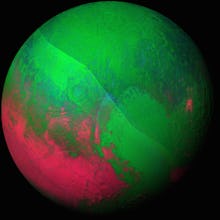 An image of Pluto recorded by NASA's New Horizons
Merry Christmas and happy holidays from outer space. NASA has been posting a series of messages online within recent days wishing earthlings a warm and cozy winter break from the New Horizons mission, as well as the astronauts working hard at the International Space Station. 
The astronauts are happy and healthy, there will be a full moon on Christmas Day and Pluto looks as brilliant as ever in a neon green glow. It's beginning to look a lot like Christmas in space.
As the New Horizons unmanned spacecraft travels around Pluto, it's been snapping photos in different resolutions using Ralph/LEISA dual instrument scans. NASA published an image Thursday using three resolutions with Christmas colors, gracing Earth with a stunning visual gift.
Pluto isn't the only place in space celebrating the holidays, however. Check out images provided by NASA and the International Space Station below: