This Coloring App Is the Best of Microsoft Paint and Coloring Books Combined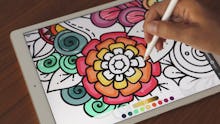 Just in time to save you from awkward conversation with relatives you didn't even know existed, the app Pigment is here.
Think of Pigment, which is available on Apple and Microsoft devices, as Microsoft Paint on your phone, but way better. It's the digital coloring book of your dreams: A free download gets you 65 free pages of illustrations for coloring on your mobile device and options to digitally paint with a colored pencil, marker, paintbrush or just use the magical "fill" feature, which you may very well remember as the paint can from those holy Microsoft Paint days.
This app has the ability to save your life — emotionally and mentally — from any stressful talk of politics or current events this season. When your dad turns on Fox News, this is the app you want to be focused on. When your aunt tries to ask about your love life, this is the app you want to be so transfixed with that you "can't hear" her question.
Pigment's picture options include butterflies, geometric spirals, flowers, reptiles, birds, ancient Egypt (?) and random doodles, like coffee cups and UGG-like boots (yes, for real). You can upgrade — after ponying up, of course — for even more options, like a Hanukkah one for the holidays.
But the best part is the range of colors, which are available in thousands of shades and opacities, with collections like "roller rink," "vintage sweater" and "candy store," which is a collection of pastel shades that are cute AF. 
The photos are small on phones, but you can use your fingers to zoom (and an "undo" button to ensure no messes). If you're fancy enough to own an iPad, a stylus would be perfect as well. But really, the fill feature is key. When Mic tested the app, the fill feature was lifesaving. We even created this masterpiece: 
(Yes, we are bragging.) 
Although this isn't the first coloring book app for your mobile device or tablet, this one does appear to have some of the best assortment of illustrations. Other than Pigment, there's Colorfy, My Coloring Book and Recolor, just to name a few. 
Given coloring's calming powers, which Mic has previously reported on, it's a perfect treat for yourself. Thanks to the rise of adult coloring books — there's even an "adult" adult one — we now know more than ever that coloring in doodles can be good for you.
Recently, studies have suggested coloring can act like therapy to reduce stress and keep us all a little more zen. With a generation that's obsessed with being busy, taking a break and reverting back to your childhood may be a great thing.
Plus, if the thought of talking to your uncle who loves NASCAR gives you hives, a coloring app a great alternative. 
h/t Refinery29