Here Are the States That Will Possibly Legalize Marijuana in 2016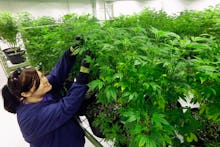 It was a big year for marijuana, which gained more and more momentum in its movement toward full legalization. Midway through the year, 23 states and Washington D.C. had marijuana legalized in some form. States like Hawaii, Delaware, Michigan and Vermont legalized weed for medicinal purposes. But it's fully legal in Alaska, Colorado, Oregon and Washington. 
With the presidential election nearing, 2016 will most likely be another significant time for marijuana. Below are the states most likely to join in legalizing recreational marijuana, according to Leafly. 
Nevada
As the first state to qualify for the 2016 ballot with almost 60,000 more signatures than needed, Nevada is well on its way to taking its legalization from just medicinal to fully recreational. 
California
California has long legalized medical marijuana. Legislators never set the ground rules for regulation and that's caused hesitancy for full legalization. But Gov. Jerry Brown recently signed in three new laws to help set up a proper structure that could pave the way for legalization, the Los Angeles Times reported. 
Maine
Known for its well-run medical marijuana program, Maine has been slowly preparing itself for full-on legalization. In fact, some parts of Maine have already been legalizing, the Huffington Post reported.
Arizona
Arizona legalized medical marijuana in 2010 and is aiming for recreational marijuana to be legalized by the summer of 2016, according to Azcentral. 
Connecticut
Medical marijuana came to be in 2012 in Connecticut, and it's been a slow build towards full legalization. Local police see it coming too and are getting ready for the law to pass, saying that medical marijuana has caused no problems so far, the Connecticut Post reported.  
Michigan
Medical marijuana was legalized in Michigan in 2008, but the state is still passing laws to build the best running system. Groups are petitioning for the state to fully legalize marijuana next year, the International Business Times reported. 
Ohio
Ohio is in a heated debate over the legalization of marijuana due to lack of funding, according to Cleveland.com. Polls show the same tight race, with 53% of voters supporting legalization and 44% opposing, according to an October Quinnipiac University poll, reported by Cleveland.com.
Rhode Island
A recreational marijuana bill introduced to Rhode Island lawmakers back in January will be the topic of debate next year. Lawmakers pushing the bill say it will eliminate the underground market and generate tax income. An October poll by the Marijuana Policy Project found 57% of Rhode Island residents would rather have marijuana regulated than banned. 
Vermont 
Gov. Peter Schulman said he's been tracking Colorado's success with legal marijuana, according to Leafly. He's organized meetings discussing the logistics of legalization, which means it could be in the near future.