If You're a Millennial, These Tiny Apartments Are a Glimpse at Your Urban Future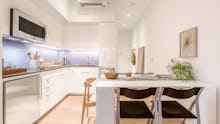 Finally, saying "I live in a room the size of a closet" is something to brag about.
This month, New York City opened its first housing development filled with micro-units: tiny, 300-square-foot apartments built to make the best out of every inch of space. Twenty-two units are part of the city's affordable housing program: For those who won a lottery, those studio apartments rent for $1,000 to $1,500 a month in the quiet Kips Bay neighborhood of Manhattan, on the east side under 34th Street. 
The apartment uses an open floor plan and flexible, easy-to-shift furniture to instantly shift the purpose of the room from kitchen to dining space to bedroom or whatever else is needed. The Murphy bed folds up into the wall, the coffee table adjusts height and can become twice its length, and a small working desk by the door can seat 12 people for dinner if you pull it out.
It's not just the furniture — other items in the home are optimized for space and efficiency. The desk lamp is also a bluetooth speaker, the stovetop is a pair of nimble electric plates built into the countertop and the home is tended to by Alfred, a virtual home concierge and maid service.
The millennial home: The stereotype that millennials don't want to own homes turns out to be largely untrue, but millennials are getting married later in life. Not having access to a second income and the potential promise of a future family means that even though millennials would mostly love to buy property, homeownership ends up a distant dream.
In response to the demand for a cheaper, more flexible house, dozens of options for small or portable homes have sprung up across the country. There are tiny houses that look like miniature woodland lodges that can be pulled around by trailer and plopped down. There are wind-powered "econocapsules" that look like space-age airstream trailers. And there are earthships, sustainable homes built out of tires and dirt to build luxury, self-sustaining ecosystems.
For the 14 affordable housing units first made available in the new Manhattan complex, there were 60,000 applications. 
No, tiny apartments aren't a solution to poverty, uncertainty in the housing market and rising levels of inequality. But for early adopters who want to try tiny, minimalistic living, going small isn't just economically viable — it's a choice for less waste and fewer material belongings.
And the demand is clear: For the 14 affordable housing units first made available in the new Manhattan complex, there were 60,000 applications.
Take a tour of NYC's first micro-units in Gizmodo's short video:
h/t Gizmodo