Pharmaceutical Company Martin Shkreli Founded Announced Layoffs 3 Days Before Christmas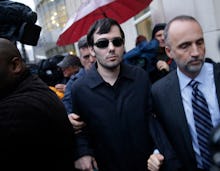 Seth Wenig/AP
Martin Shkreli's former company Turing Pharmaceuticals has announced layoffs just in time for the holidays, according to the New York Daily News. The company said that through a "reduction of its workforce," it would "streamline its operations," according to a statement Tuesday. The move comes right after Shkreli resigned Friday as CEO and pleaded not guilty to a securities fraud charges.
The unknown number of layoffs are all part of the company's new start, or "long-term plan," as interim CEO Ron Tilles, who's on the board of directors, said in the statement. Turing Pharmaceuticals is also on the lookout for a new permanent CEO and more board members, CNBC reported.
"Though this has been a period of leadership transition for Turing, I am confident that the fundamental business model remains strong," Tilles said, according to the New York Daily News. 
Turing, which was cofounded by Shkreli, was the company he used to spike the price of the AIDS drug Daraprim from $13.50 to $750 in September.
As karma would intend, Shkreli was then arrested on Dec. 17. Following his arrest, KaloBios, another company purchased by Shkreli, fired him in the wake of the scandal, according to the New York Daily News.